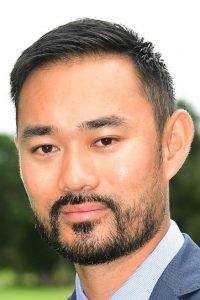 Cho Minn Thant has quashed rumours that Greg Norman will be taking over from him as Commissioner and Chief Executive Officer of the Asian Tour.
Speaking in an exclusive interview with the Asian Golf Industry Federation, Cho said he will be remaining in the post and working closely with Norman, CEO of a newly formed company, LIV Golf Investments.
Upon his appointment at the end of October, Norman announced a ground-breaking series of 10 new marquee events to be staged annually on the Asian Tour over the next 10 years, representing a total commitment of over US$200 million to support playing opportunities and prize funds.
Many jumped to the conclusion that Norman was also moving into the Asian Tour hot seat.
"I think that's been misreported several times in the press," said Cho, clarifying the role of LIV Golf Investments as a promoter.
Cho said: "They're going to be promoting tournaments on the Asian Tour. The Asian Tour structure, management and Board remain the same. The 10 events that they'll bring on will enhance the platform that we already have. That's setting the record straight.
LIV Golf Investments
"We've got a very good, close working relationship but we do work with a lot more promoters as well across the Asian Tour.
"LIV Golf Investments is a promoter and they are not taking over the Asian Tour and we won't be changing our structure any time soon."
Of the links with Saudi Arabia's Public Investment Fund, Cho said: "The PIF is the funding partner of LIV Golf Investments, much like they're the funding partner of Golf Saudi.
"We maintain two independent relationships with Golf Saudi and LIV Golf Investments. They're separate promoters and the Saudi International is run by Golf Saudi.
"LIV Golf Investments is running this new marquee series for us. To be honest, it's great that there's so much investment in the world of golf right now.
"The Public Investment Fund is an autonomous fund. They invest is several business ventures such as Uber, Citi, Facebook. They're all household names. And PIF has just recently taken a stake in Newcastle United Football Club. We think it's positive that they have such a keen interest in golf and a keen interest in sport and we'll make it work."
*The full interview with Cho can be viewed by clicking here.
Source: agif