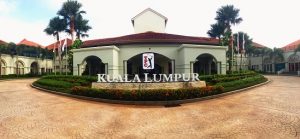 Fleet Management and Digital Marketing will be among the main themes at next week's Asian Golf Industry Federation (AGIF)-organised Club Management Mini Summit.
Highlighted by presentations from Farroul Hossey and P. Gomathi, the October 10 event will be hosted by TPC Kuala Lumpur, a Golf Course Facility Member of the AGIF.
Staged in partnership with the Malaysian Golf Association (MGA), the Golf Club Managers Association of Malaysia (GCMAM) and TPC Kuala Lumpur, the Mini Summit will be held on the eve of the PGA Tour's CIMB Classic.
Sponsored by Club Car and Aspen, the Mini Summit follows on from the fourth Golf Course Superintendents Association of Malaysia (GCSAM) and AGIF Turfgrass Management Seminar and field day, scheduled for October 9.
Eric Lynge, the AGIF's Chief Executive Officer, said: "With a star-studded field heading to TPC Kuala Lumpur for the CIMB Classic, the focus of the golfing world will be on Malaysia next week.
"It's an ideal opportunity for the industry to come together and discuss topical issues. Previous Mini Summits that we've organised around the region have provoked considerable positive feedback and we are anticipating another excellent turnout at TPC Kuala Lumpur."
After a welcome address from Lynge, Hossey, Club Manager at TPC Kuala Lumpur, will tee-off proceedings with a presentation on Fleet Management. There will then be a panel discussion on the subject with a question-and-answer session.
Meanwhile, the post-lunch segment will feature Gomathi, a Freelance Digital Marketing Consultant.
Other topics included in the Mini Summit are a Review of a Salary Benchmarking Survey conducted by the AGIF and a round-table panel discussion on Club Management Software.
The TPC Kuala Lumpur event will be the fourth in a series of Mini Summits staged by the AGIF this year with previous events having been held in Indonesia, the Philippines and Vietnam.
For further information and to book your place at next week's Mini Summit, please contact the AGIF Secretariat at pk.ong@agif.asia