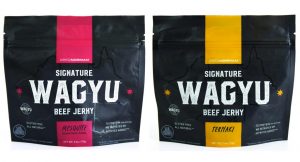 Greg Norman and Caribe Producers LLC. announce the release of Greg Norman Signature Wagyu Beef Jerky – the first 100% Australian Wagyu Beef Jerky in the United States.
Since 2006, Greg Norman Australian Prime has been a favorite Wagyu beef of pro chefs, restauranteurs and consumers across the country. The Greg Norman Signature 350-day, all grain-fed Wagyu beef is one of the leading imported Wagyu brands in the US.
"Having developed my own line of premium branded Australian Wagyu beef more than a decade ago, I am thrilled to bring a new product offering to the market that is accessible to everyone," said Norman. "I truly believe this is the best jerky available – tender, flavorful and straight from Australia."
The beautifully marbled, savory, authentic Australian Wagyu beef is now available as Greg Norman Signature Wagyu Beef Jerky in two flavors: Mesquite and Teriyaki.
Caribe Producers, LLC created the two all-natural, original recipes and will be representing the line. "We didn't want to distract from the perfection of the Wagyu beef, so the recipes were carefully crafted to keep the taste of the authentic Australian Wagyu," said Michael Hocklander, CEO of Caribe Producers. "This resulted in two unique styles of seasoning for Greg Norman Signature Wagyu Beef Jerky that we are extremely proud to offer."
The Mesquite tenderness has a smokey, grilled background with a simple hint of chipotle and garlic while the tender Teriyaki is savory and sweetly grilled with a bright finish. Greg Norman Signature Wagyu Beef Jerky is all natural, gluten-free with no artificial preservatives and free of nitrates and nitrites. Each bag contains 17.5 grams of protein. Greg Norman Signature Wagyu Beef Jerky is available on Amazon HERE and will be hitting shelves nationwide this year.
ABOUT GREG NORMAN
Arguably the most successful athlete-turned-businessman in the world, Greg Norman is known as much for his entrepreneurial spirit in the boardroom as his dominance on the golf course. The internationally renowned "Great White Shark" won more than 90 tournaments worldwide, including two Open Championships, and holds the distinction of defending his No. 1 position in the world golf rankings for 331 weeks. Greg Norman now transcends the game of golf, with over a dozen companies around the world bearing his name and the iconic shark logo as part of the Greg Norman Company, which he leads as Chairman & CEO.
Growing up in Northern Australia, Greg Norman spent summers working on the country's famed cattle stations where he developed an appreciation for the high-quality Wagyu that Australia is known for. Since 2006, Norman has partnered with a world-leading source for specialty and game meats to deliver his own brand of prime Wagyu beef, Greg Norman Australian Prime. For more information: www.shark.com