Prior to his accident, James Gribble was not only a successful investment banker but an active sportsperson and obsessive golfer with a single-digit handicap, and with his whole life ahead of him.
That all change in a freak accident in Africa in 2008 after fainting from dehydration, falling off a stool backwards onto hard sand and shattering his C4 & C5 vertebrae and damaging his spinal cord, rendering him a quadriplegic.
Following several months in hospital, the former athlete embarked on a long and intensive rehabilitation journey, and was after four years of hard work able to get back into the swing of things, and is now arguably one of the only quadriplegic golfers in the country.
From early on in his recovery James was determined to help other through his experience and founded the Empower Golf Foundation in 2014, aspiring to make golf become more accessible to all individuals.
Now, almost a decade after his accident, James is still seeking new ways to reach out and help other less abled bodies through his life story. He is in collaboration with a dedicated film team making a documentary about his remarkable recovery back to an active life and needs your support to finish it.

Tiger Fish is the inspiring story of a man who had it all, lost it and has defied the odds to get it back in an unexpected way. It is an honest, heartwarming – and often hilarious – look at a man who is now changing people's lives through the events of his own accident and the power of his extraordinary attitude and his own charitable initiatives Empower Golf  and The Puffin Magic Foundation.
James and the film team are seeking to raise a minimum of $100K to finish the documentary by August 2018 so that it may be submitted to film festivals such as Cannes, Tribeca & Sundance around the world. The film proceeds will go towards James' charity to help better the lives of those like James who need financial and emotional support.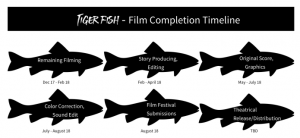 If you want more information about the project or you think you can help James help others through his documentary, please visit the official funding page on INDIEGOGO or on www.tigerfishfilm.com.