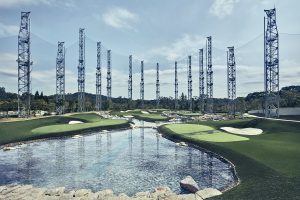 IMG announced that Hong Kong Golf & Tennis Academy (HKGTA) has joined IMG Prestige, making it the first property in Hong Kong to become part of the global network.
The affiliation sees Hong Kong Golf & Tennis Academy's patrons benefit from IMG Prestige's elite network of over 200 leading golf courses and corporate partners around the world, while Prestige members will enjoy access to the Academy's extensive sports, recreational and residential facilities.
A holistic sports and wellness destination centered on golf and tennis, HKGTA is in a league of its own in Hong Kong. Set in Sai Kung's pristine countryside, which is a scenic 40-minute drive from Hong Kong island or 25 minutes from Kowloon, HKGTA includes a PGA of America Learning and Performance institute and Bruguera Tennis Academy.
Patrons enjoy exclusive access to premium facilities dedicated to sports wellness, along with accommodation, dining, sports and recreation activities. The Academy's coaches and staff are a distinguished group of individuals devoted to striving for excellence and encouraging future generations to value a sporting lifestyle.
Paul Burley, Senior Vice President, IMG Golf Course Services, commented: "Having the Hong Kong Golf & Tennis Academy as our first venue in Hong Kong is very exciting for us. The golf and residential facilities are truly world-class and we believe IMG Prestige network members will enjoy visiting the club when travelling to Hong Kong."
Kurt Greve, General Manager, Hong Kong Golf & Tennis Academy, commented: "It's a pleasure for us to become part of the IMG Prestige network. The programme features some of the best golf properties in the world and we're confident that our Patrons will take good advantage of the exclusive access when travelling abroad."
IMG Prestige provides a valuable and unique benefit to the members of each participating club, delivering green-fee revenues as well as providing an immediate seal of quality in the marketplace.
IMG is a global leader in the design, development, marketing and management of world class golf courses. For more than 25 years, the company has set the standard for excellence in golf course design and golf club management. IMG has been responsible for the design of over 100 golf courses around the world, and currently provides management and marketing services to over 20 award winning clubs and resorts. For more information about IMG Golf Course Services please visit www.imgprestige.com