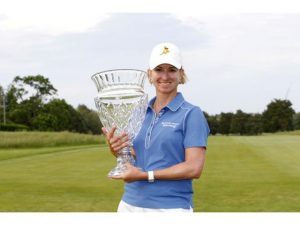 On Wednesday this week Hall of Famer Karrie Webb, 43, received the second highest honour that can be given to an Australian.
Webb was honoured during a ceremony in Brisbane where she was elevated to an Officer of the Order of Australia after being named a Member of the Order of Australia eight years ago.
According to LPGA, Webb  was recognized not only for her accomplishments in golf but also her creation of the Karrie Webb Series, which mentors and provides scholarships to young, promising golfers in Australia.
"I'm very humbled to even be considered for this honour but it's even more humbling when the most deserving people of our community, the armed service members are receiving there honours for fighting for and protecting our freedoms," said Webb on her social media account.
Earlier this year when it was announced that Webb would be promoted,  Golf Australia chief executive Stephen Pitt said both honours were extremely well deserved.
"Karrie is obviously one of our all-time great players with the most phenomenal playing record," Pitt said.
"But beyond that, she's so much more in the golfing community having already given so much to her generation and the next to follow.
"She works at great length to ensure as many people as possible, particularly women and young girls, have the opportunity to play and improve their golf.
"What she's done and continues to do with her Karrie Webb Series and the scholarships she puts her heart and soul into deserves this recogntion and much more.
"She's just one of the great ambassadors for this country and our sport."
Webb is 41-time winner and seven-time major champion.