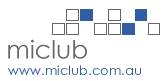 MiClub, a GMA sponsor since the inception of the national body, is pleased to announce our technology partner sponsorship of the 2017 GMA Conference.
MiClub has been a sponsor for nine consecutive conferences.
"MiClub greatly appreciates the amazing support from GMA members and is very pleased to continue our sponsorship for this year's conference. Our relationship with GMA is extremely important to us.
"The endorsement of our products by GMA members has played a major role in reaching a new milestone of 440 clients this year. MiClub's commitment in return is to continue to keep our clients at the forefront of innovation and best practice, always backed by comprehensive support," said MiClub's Managing Director Peter Maddison.
In the past year, MiClub has enhanced its suite of products including:
the market-changing MiClub Northstar club management system;
the launch of club revenue raising aggregator TeeNet;
flexible lifestyle membership;
dynamic green fee pricing;
vouchers and trigger marketing and
campaign communications.
MiClub wish GMA and all delegates an enjoyable conference. We look forward to greeting you at our exhibition booth and catching up throughout the conference.
e>