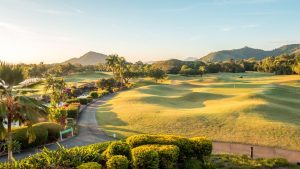 The sun will set on Paradise Palms golfing at the end of next month, so work can begin on a new master plan for the site.
Tournaments during the final six weeks of play at the Kewarra Beach course will be held to raise funds for flood relief.
The 133 members, as well as staff members, were given the news of the March 31 closure at meetings yesterday.
PPNQ Developments spokesman Darren Halpin said the members will be paid their remaining pro-rata membership value and the company will work with staff to try to help them secure new jobs.
"We will be doing everything to help our staff find new employment in areas and industries in which their skill set is transferable – for instance, parks and garden maintenance," he said.
"We are also working with both Cairns Golf Club and Half Moon Bay Golf Club to identify what assets of ours can help improve their operations – for example, our greens, our fairways or our equipment."
Mr Halpin has signaled the plan for the 96.3 hectare site includes new housing, a school, a luxury tourist park and small water park.
However, he said a range of development opportunities are still being considered and Brisbane-based planning consultancy, Urbis, has been hired to produce the comprehensive master plan.
"Closing the course at the end of March allows us to continue stakeholder engagement and the environmental surveying required prior to completing the master plan.
"At the moment we have a botanist on site, and we are working with a whole raft of native flora and fauna experts that include The Agile Project's wallaby relocation program," he said.
The first draft of the master plan is scheduled for completion next month, which will be followed by a community information session before the Development Application is lodged in late April or early May.
Mr Halpin said other than the golf course, it's business as usual for the resort accommodation and the clubhouse's bars and restaurants, albeit with limited opening times.
The site was bought for a reported $16.7 million in 2015 by a syndicate led by Mr Halpin but hasn't been profitable since then.
Source: Tropic now