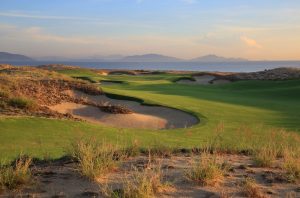 To mark the opening of Vietnam's latest Greg Norman-designed masterpiece, luxurious beachfront resort the Anam has unveiled a package combining time on the course with fine dining, sunset cocktails, yoga and a Vespa tour.
Two rounds of golf at KN Golf Links anchor a "Golf and Dine" package that includes three nights' accommodation at the Anam. The golf course opened late last year at the southern end of Cam Ranh's 8-km Long Beach. The Anam is situated at the northern end.
After drinks at cocktail hour daily, the package features a different dining experience each evening.
There is a five-course dinner with wine and live piano at the Anam's elegant fine dining grill The Colonial one evening.
On the second evening, there is a guided night-tour through bustling Nha Trang on a white Vespa with stops at key culinary opportunities along the way.
And on the third evening, there is an authentic slice of Vietnamese culture with Mama's Cooking, a cooking extravaganza conducted by a half-dozen mothers of its staff who draw upon centuries-old recipes for timeless Vietnamese classics.
To help boost their game, golfers also benefit from a private yoga session with the Anam's resident yogi Umesh as part of the package.
In October, Norman helped open KN Golf Links, a 27-hole development that marks the Australian legend's third effort in the country and a new anchor for golf along the south central coast.
The main attraction at the club is its 18-hole Links course, inspired by the classic seaside layouts of Scotland and Ireland and described by Norman as one of the "most unique properties I've ever been able to work with."
Complementing the Links course is the Oasis: a 9-hole, garden-style challenge that runs inland from the clubhouse.
"With so much now happening at Long Beach, Cam Ranh is emerging to rival the likes of Danang and Phuket as a premium beach destination," said the Anam's founder and chairman Pham Van Hien. "Whether you're a budding golfer or an experienced professional, our new Golf and Dine package brings together the crème de la crème of what's on offer here at Vietnam's hottest new destination."