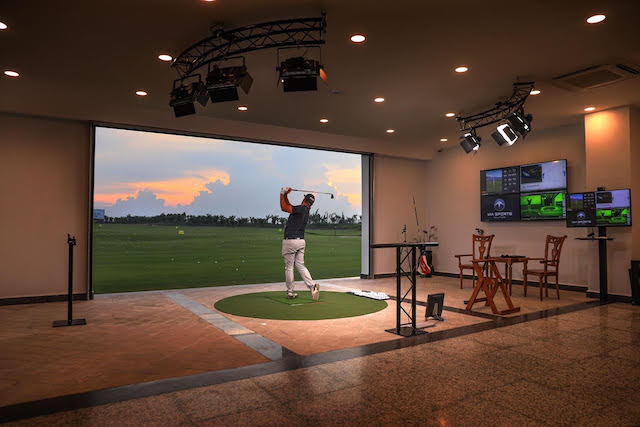 Vattanac Golf Resort, the luxury Troon-managed golf course, has opened a world-class golf academy in Phnom Penh, Cambodia.
Set to be one of the best learning and practice facilities across Asia, the academy offers unrivaled level of golf technology, including:
A floodlit driving range, with all bays powered by Eagle Try technology
Two world-class classrooms, each equipped with leading technology
An expansive short game area
Four VIP rooms with the latest Trackman Range software
Three golf simulator rooms
A boutique golf specialist gym
The largest golf shop in Cambodia
A PGA-specialized custom club fitting service

Vattanac Golf Resort is the leading 36-hole golf course in Cambodia, designed by Sir Nick Faldo. Since the opening of the property in 2019, the company is consistently pursuing its vision to grow the game of golf in Cambodia and the region, as well as to put Phnom Penh on a bucket list of every golf traveler. To fulfill this vision, Vattanac Group has put a lot of passion and investments into its golf academy's project. In August 2021, the Vattanac golf academy had its soft opening with a floodlit automated driving range, a restaurant and the largest golf shop in Cambodia.
Important milestone
DJ Flanders, Senior Vice President at Troon International commented, "The completion here at Vattanac of a new academy is an incredibly important milestone in the overall evolution of the resort. This 40,000 sq ft facility will enhance our overall asset and the experience we can offer to our guests. The ownerships priority at Vattanac Golf Resort is to keep growing the quality and output of our business, and to further engage all components that Troon has to offer."
Unseen golf technology
In March 2022, the latest phase of the academy's opening brought to Cambodia cutting-edge, previously unseen golf technology, including two world-class schoolrooms. These schoolrooms integrate smart interior design features with the latest visual display tools, cameras, lighting and the best performance-enhancing software – Trackman, in order to provide the best learning experience to the students. Students also enjoy SAM Balance Lab to measure the ground force generated during the golf swing, and V1 Sports for video analysis, all delivered by the country's only dedicated PGA Teaching Professional David Lamprecht. Another elite software – TrackMan Range – is also a prominent part of the four VIP rooms with private range bays. Here the guests can hold their business meetings, parties, while enjoying golf challenges on TrackMan range. This is something unique to Cambodia and Vattanac Golf Resort is just one of a few select venues in Asia, which owns this exciting technology.
Magnificent golfing venue
Renowned golf photographer Kevin Murray, who recently visited Vattanac Golf Resort, was impressed with the golf course and with the developments, taking place at Vattanac Golf Resort. Kevin shared: "My first trip to Cambodia to shoot the newly designed East and West Courses at Vattanac leaves me searching for the right superlatives of which many could apply. Having shot over 500 courses worldwide Vattanac has to stand out as the most magnificent golfing venue in Asia and possible the rest of the World. The sheer scale of the complex is like nothing I've experienced before in the 16 years of shooting golf courses".
"The academy and driving range is the most evocative display that visitors will ever experience. Automatic ball dispensers in each bay makes pregame practice an easy delight with further VIP bays and lounges fitted with state-of-the-art simulators also available," Murray added.
Initiative to grow the game
The Vattanac golf academy is the ultimate golf venue in Phnom Penh, where everybody who has a passion for golf, can find something suitable for their skill level and ultimately to enjoy the game. Whatever the goal is: to play golf, to practice, to step up their game, using technology, data and holistic teaching methods by PGA Professional; or maybe – to have a party with golf challenges, organize a corporate event or meeting – the academy boasts it all. Over and above, The Vattanac golf academy is currently offering different initiatives to grow the game. To name a few – The Vattanac Ladies Golf Program and The Vattanac Junior Golf Program as well as Stay & Learn package, the focused coaching sessions with Head Teaching Professional for both local guests & international visitors
To learn more about Vattanac Golf Resort, visit www.vattanacgolfresort.com.
More ASIA News: