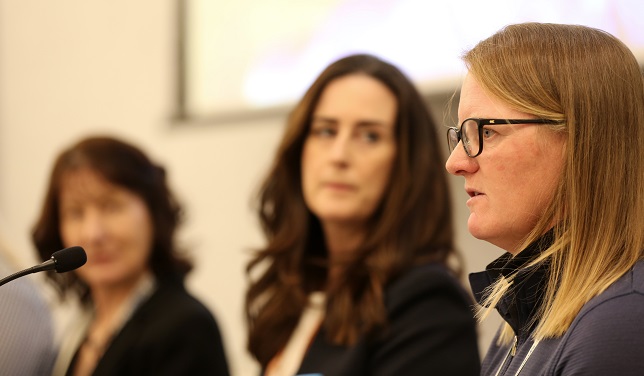 The under-representation of women in the sports turf management industry was brought into sharp focus at the Australian Sports Turf Management Conference.
In a panel session at the Melbourne Convention & Exhibition Centre, Asian Golf Industry Federation Board Member Karen Proctor was among a quartet of high-profile females to address the issue of Women in Sports Turf Management.
As well as speaking specifically about what women can bring to the golf industry, Singapore-based Proctor, Director of Sales – APAC with Textron Specialised Vehicles, also stressed the importance of mentors.
Joining Proctor on the panel were Sandyhurst Golf Club Course Superintendent Geraldine O'Callaghan, Elise Willemsen, Senior Marketing Manager Landscape and Turf with Toro Australia, and Lynn Watts, Area Manager – Pacific Rim with Hunter Industries.
Improving Diversity
Under the banner of 'Improving Diversity Across the Sports Turf Management Industry', the event highlighted that females make up only 1.4% of qualified trade workers, and also marked the official launch of the Women in Sports Turf Management Strategy, an initiative of the Australian Sports Turf Managers Association (ASTMA).
In his opening remarks, Mark Unwin, ASTMA's CEO, said: "This strategy has been developed in response to the disproportionately low number of females within the sports turf industry, which will further assist in addressing current challenges in workforce participation and retention as highlighted by the 2021 and 2022 Sports Turf Management Labour Resourcing Survey.
"This programme establishes the framework to develop a long-term approach to support female sports turf managers, the establishment of a pathways initiative to increase the number of females in the industry and a programme of sustainable support and skills development to drive diversity and inclusion in the industry."
The Women in Sports Turf Management Strategy focuses on two target areas: 
Attract: A strategy that will pioneer new and innovative ways to increase participation of women in Sports Turf Management.
Retain: The advancement of vocational opportunities, developing experienced and qualified workers through a series of pathway and support initiatives.
Unwin said the Women in Turf Strategy and associated initiatives will be informed by research, consultation and be data-driven to support initiatives that will increase the appeal of sports turf management to women, improve career pathways in workplaces and maximise vocational outcomes.
"The Women in Sports Turf Strategy addresses key actions necessary to increase the representation of women in a non-traditional trade.
It is designed to strengthen relationships between industry, employers, schools and women's networks to ensure the best outcomes are delivered for women seeking a career in turf management," said Unwin.
According to ASTMA, limited awareness of the trade as a viable career option has led to shortages in skilled and trade qualified female turf managers, resulting from a disproportionately low number of females undertaking an Apprenticeship in Sports Turf Management.
At 1.4% of the workforce, this diversity rate is relative to, however below, that of comparative industries worldwide, where in Canada, Europe, the United States and New Zealand, women represent between 4% to 7% of the industry's workforce.
In addition to the panel session, there were individual presentations from Dr Niki Vincent on Promoting Gender Equality in the Workplace, Golf Australia's Tiffany Cherry on Female Engagement Programmes, and O'Callaghan on Turf Management Careers.
Source: AGIF
Related articles: