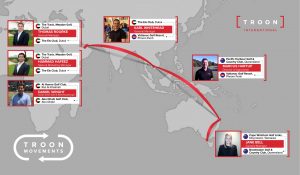 The world's largest golf management company, Troon International, has recently announced six strategic appointments of associates at their properties around the world, demonstrating a wealth of resources and talent in their international arsenal.
Troon is the leader in upscale golf course management, development and marketing and provide services to 435+ locations and 470+ golf courses around the world.
The company's foundation is comprised of the best talent and resources in the industry which assists in cultivating the creativity of their associating venues worldwide. It is the supportive company culture combined with 30 years of experience give Troon the opportunity to develop the strategies, resources and talent that allow their associating clubs to excel in a competitive industry.
Australian Talent
Troon's latest appointments emphasises the wonderful growth opportunities that are available to industry professionals worldwide, and include two engagements to and from Australia.
Marcus Hartup from Pacific Harbour Golf & Country Club in Queensland will bring 20 years of Troon experience and knowledge to elevate the Vattanac Golf Resort in Dubai with superior agronomy conditions when he takes on the role as Director of Agronomy.
And returning to Australia as General Manager of Brookwater Golf & Country Club is Jane Bell who started her journey with Troon over 20 years ago at Yarra Yarra Golf Club. Thanks to Troon, Jane has acquired the skills and expertise taking her to clubs all around the world over the past decsdes, including Denarau Golf & Racquet Club, Fiji and Address Montgomerie, Dubai.
"With over 20 years' experience I feel I will be able to put all that knowledge along with the skills acquired over the years, together, to drive new business to the club. Having this global network through Troon allows me to access the numerous resources and tools to enhance my skill set and professional growth," said Jane about her new appointment.
Also read: Troon International Appointed By Brookwater Golf And Country Club

A world of opportunities
After several years analysing and understanding the Australian golf market, Troon International has continued to enjoy further success within the Australian golf industry, with their portfolio growing to seven properties.
A number of factors have contributed to this expansion including: providing cost-effective solutions, employing talented and resourceful staff, and providing training and a challenging but rewarding environment in which to work.
Furthermore, Troon Golf has implemented innovative marketing programmes, such as the Troon Advantage Program, and has utilised best practices from across the world to enhance operations and marketing for all.
About Troon
Comprised of six primary brands committed to providing best-in-class hospitality and club management services, as well as innovative brands beyond golf, Troon has the resources and talent to develop the strategies that allow clients to excel in the competitive world of golf and club operations.
Troon specialises in homeowner association management, private residence clubs, estate management and associated hospitality venues. Troon's award-winning food and beverage division operates and manages more than 475-plus food and beverage operations located at golf resorts, private clubs, daily fee golf courses and recreational facilities.
There are currently 67 Troon-affiliated properties featuring 87 golf courses on national and international "Top 100" rankings.
Related Articles: