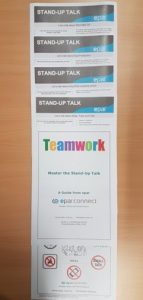 The 4 epar Stand-Up Meeting Talks, the Guide, and the poster that make up Pack 1 of Epar's initiative to provide our epar customers with 50 Stand Up Talk documents, is ready to go.
The Epar team wants to let all our customers know that their support is appreciated and that it has certainly contributed to the company's success, and is now giving customers the Stand Up Talk Packs for FREE.
For a limited time offer- non epar clients can also receive Pack 1 buy contacting Terry Muir directly and mention this exclusive Golf Industry Central offer.
It's the company's way of saying thank you to their customers for supporting them in the development of the Connect 2.0 environment, health and safety program.
Connect 2.0 is epar's 5th compliance platform and every one of them has shone in their own way.
The epar Connect app is built to become a clubs' central application for compliance. It is a carefully crafted digital ecosystem created to solve important environment, safety and sustainability problems. All your compliance and sustainability communications are instantly searchable, available wherever you go.
In Connect 2.0 Epar has changed the face of EHS management and this cloud based app rich platform is already making unprecedented contributions to the way in which organisations function.
It allows them to gather vast amounts of information, find both the tools and content they need to get a collaborative EHS task done, and experience the latest and most innovative technologies in the field, and all without heavy investment.
Help Epar celebrate the release of the Connect 2.0 platform by becoming a member and making sure you receive these free packs every month over the next 12 months.
Contact Terry Muir for more info on terry@epar.com.au