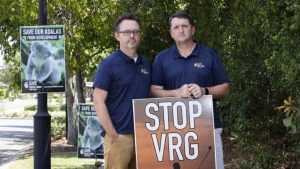 NORTH LAKES Resort Golf Club will close for good in less than two weeks after its owner and developers The Village Retirement Group finalise the sale.
Club owner Adam Simpson announced to members this week that the course will "stay closed" from August 11 and will change ownership on August 13.
"I understand that this is an emotional time for all involved not limited to the membership, employees, golfing community and North Lakes residents," Mr Simpson said.
"Despite the closure of this magnificent golf course and club, it would be wonderful to see everyone behave with dignity, respect and support for each other over our remaining time and enjoying this wonderful course."
The Village Retirement Group has plans to develop part of the course into a retirement village and aged care facility.
Managing Director Justin Harrison said he would seek discussions with Moreton Bay Regional Council and the State Government about providing a substantial part of the land for use as a public asset.
He said he did not expect to lodge a development application for the retirement and aged care proposals before resolving an outcome for the North Lakes Common site.
"This community needs public open space and it also needs more retirement and aged care accommodation," he said.
"Brisbane City Council is turning Victoria Park Golf Course into a public park and there is an obvious opportunity for the same thing to happen at North Lakes."
TVRG has consistently stated since news of the pending sale first broke in July last year, that the club would close and the company would purchase the site.
Though Mr Simpson initially stated the club would remain open until the end of this year, TVRG said it finalised its contract to buy the club ahead of schedule.
The August 11 closure date has left members in shock.
Several thousand residents of North Lakes and surrounding suburbs have joined together to fight the development from going ahead under the Save North Lakes Golf Course group.
A Save North Lakes Golf Course spokesman said that with absolutely no building approvals, the purchase at this stage appeared a very risky play.
"Going forward we will continue to monitor every aspect of this matter in a proactive and resolute manner," he said.
"We also think of the employees who have lost their employment.
"The last trading day is our fundraising golf day and I look forward to one day teeing off again in the future on the re-opening."
The group recently received support from Federal Member for Petrie Luke Howarth who made a plea in parliament to Moreton Bay councillors to reject development of that land.
Mr Simpson, in a statement to golf club members, said it had been an incredible honour to be involved with the club since it opened in 2002 and as an owner for the past 13 years.
"The landscape has changed significantly in the past 17 years of trading and for the golf industry in general," he said.
"I am forever grateful for the people I have met as employees, members, guests and clients at all the different events over the years.
"Those who have experienced North Lakes Resort Golf Club truly do understand the special place that it is and the joy of playing the course and experiencing the team."
Mr Simpson said fees paid would be refunded from today, and members won't be charged for the final days of the club's operation.
SOURCE: Courier Mail