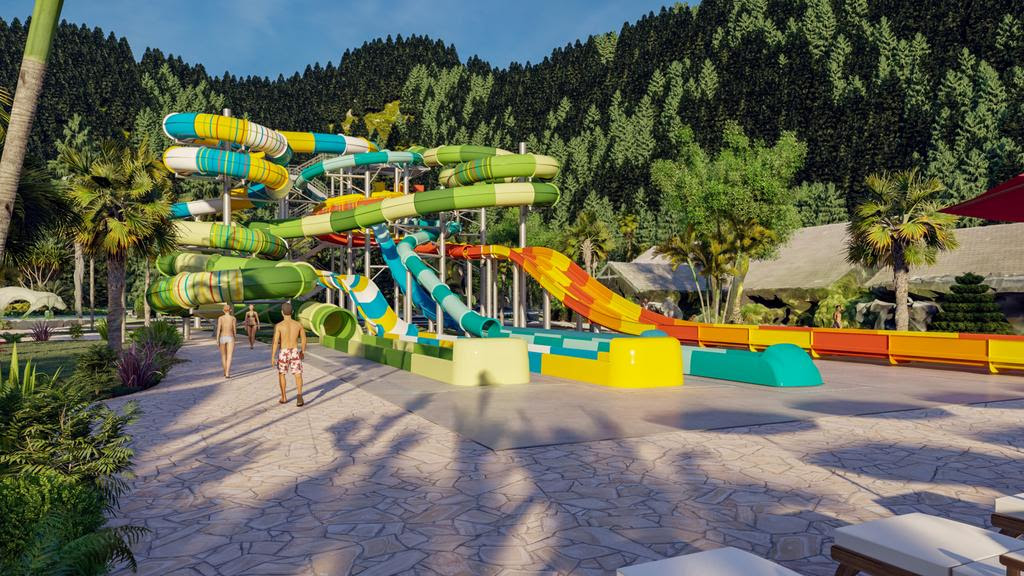 Paradise Palms boss Darren Halpin has now revealed his next step to finally push the $300m Paradise Palms redevelopment through to bricks and mortar stage.
The biggest battle has now been fought and won but plenty more approvals are still needed before the project reaches construction.
Current approvals are in place for rezoning and the division of the site into five lots – ostensibly to make it more "manageable" but also to make the internal road approvals process easier to navigate.
Further subdivisions must get the green light, including for 330 separate freehold residential lots.
The development would see the 206-acre property transform into "one of the most liveable communities in Australia", according to project proponents PPNQ Developments.
Need Council approval
Distinct plans for each of the site's sections, such as a great big water park that will sit beside a caravan and villa tourist park, will also require the council's tick.
"The school development application is already with council," Mr Halpin said.
"That's going through all their approvals process now.
"The residential stage is what we want to happen as soon as possible.
"We want to get Stage 1 of residential up and running – that's 87 lots.
"We are working on that now as well as the final designs for the water park and the tourist park."
The course's closure
Mr Halpin shut the unprofitable course in 2019 and revealed plans to undertake a massive redevelopment.
Those plans for The Palms, as it will be known, have evolved over the ensuing years to include a 330-lot residential subdivision, a Catholic primary school, a tourist caravan park and villas, water park, retirement village and open-space wildlife corridors.
The course's closure was immediately met with protests from nearby residents who argued it should be kept as public open space, and that any redevelopment would bring down their property prices.
It became one of Cairns Regional Council's most controversial decisions with only councillors Brett Olds and Rob Pyne voting against its approval in November last year.
Mayor Bob Manning said he "saw no reason why the proposal wouldn't go ahead" but Cr Olds argued it flew in the face of the reason a lot of people moved to the area.
"People have set their lives up around there … there is going to be huge impact on people's lives and now what we are saying is we are going to let the developer come in and change it," he said.
That now appears to be a moot point with the appeal about to be dropped – a move that will also likely save ratepayers a lot of money in legal fees, excluding the ones they have already covered.
Related Articles: