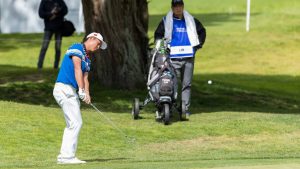 Members of Wellington's most exclusive golf club will soon be rubbing shoulders with those from a nine-hole club after a decision to merge the two.
Pauatahanui Golf Club's sale looks set to be completed in May, after its members voted to amalgamate with the high-brow Royal Wellington Golf Club.
In November, Royal Wellington, which holds a strict dress code and where a full membership costs $2520,
The nine-hole Pauatahanui course was put up for tender in February with a rateable value of $1.3 million, and the sale had been extended until May 13.
Speculation remains over the identity of the prospective buyer and the future of the 28.2 hectare site in Paekakariki Hill Rd after members voted to cease using the course last week.
The merger was confirmed by Barry Brown, Club Captain at the Royal Wellington Golf Club in Heretaunga. If the merger  is ratified in May, the amalgamation was expected to be completed in June.
"The Pauatahanui members had a special general meeting on the 8th of  April and I'm told their members resolved to cease playing at Pauatahanui and form an amalgamation with Royal Wellington," he said.
"We have had some very good and fruitful meetings with the Pauatahanui membership and we have hosted members for lunch and they have enjoyed playing with us.
"Pauatahanui members will become members for an unlimited period," Brown said.
"Golf in New Zealand and in the Wellington region has been encouraging clubs to speak to each other about the use of their facilities. In that context Pauatahanui and Royal Wellington started a conversation and quite quickly we realised our members would benefit from an amalgamation."
Pauatahanui Golf Club was established in 1966 and the sales brochure says its origins are "as Kiwi as can be".
"A group of mates in the 60s who liked to get together and play some golf started the journey. Frustrated with not being able to get a regular tee time at a nearby private club, they decided to take matters into their own hands.
"With a bit of persuasion, a local farmer leased the land to these crazy blokes who were convinced they could see nine holes of golf on this land.
"On most Fridays after they knocked off work they'd head out to Pauatahanui, pitch tents and settle in for a weekend of working the land and a little bit of golf eventually."
Pauatahanui Golf Club was approached for comment.
Source: Stuff