SHANX @ Regency Park is a new mini-golf complex which seeks to capitalise on the unprecedented interest in golf brought on by the COVID-19 pandemic.

The mini-golf course complements the existing 9-hole course and has already created hype within the community with 1,500+ rounds pre-booked and over 20 Corporate Events.
The opening night on Friday 24 September was sold out and SHANX's designer – GreenSpace Management – are expecting big things from the new golfing experience.
The newest little golf course
"We believe this is the most exciting golf development to happen in Adelaide over the last decade, so there is plenty of interest, excitement and buzz around us," Peter Vlahandreas, GreenSpace Management managing director, said.
"If our pre-launch campaigns are anything to go by, Adelaide is going to flock to SHANX @ Regency Park and have a great experience on Australia's newest (little) golf course."
GreenSpace Management expects visitation to the facility to increase from 50,000 annual golfers to 85,000 unique visitors annually, and for most mini-golf users to be people who have never been to a golf course before.
City of Port Adelaide Enfield Mayor, Claire Boan, is delighted.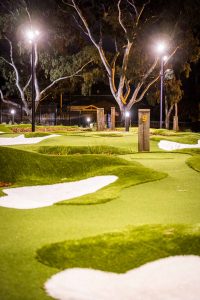 "The City of PAE is thrilled to be working alongside GreenSpace Management to bring something new and exciting to Regency Park Community Golf Course, that both the golfing community and the local community will love. SHANX is a new way to play golf unlike anything seen before in the Southern Hemisphere and we can't wait to play!" Boan said.
Financial success stories
The new venue follows the success of SHANX @ Links Shell Cove in Illawarra, New South Wales, which introduced the game development pathway to Australia.
SHANX courses are designed to provide children and beginners with a relaxed, social and non-intimidating introduction to golf, while also challenging existing golfers.
"We design our courses bespoke to the land we have to work with. Shell Cove is quite literally on the side of a hill whilst at Regency Park we repurposed an underutilised practice putting green in front of the shop for SHANX," Vlahandreas said.
"We essentially design a golf course, then miniaturise it which is what gives our courses such a unique look and feel to them – like nothing the Australian market has seen before."
Mini-golf courses have brought financial success to clubs such as Maroochy River Golf Club on Queensland's Sunshine Coast in recent times, and the need to generate revenue is encouraging more clubs and facilities to explore entertainment offerings.
As a result, SHANX has expansion in its sights.
"We have our third SHANX facility underway in Queensland which will open early 2022," Vlahandreas said.
"Interest nationally (and internationally) has been very positive since we started, all I can say is watch this space, we have some very exciting projects in planning."
Source: GA
—
SHANX @ Regency Park will cater for children's parties, corporate events and product launches from July, for further information please email the SHANX Events Team; events@shanxminigolf.com.au
SHANX @ Regency Park opens July 2021.
For more information please visit www.shanxminigolf.com.au or email info@shanxminigolf.com.au
Related Articles: