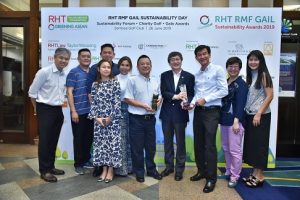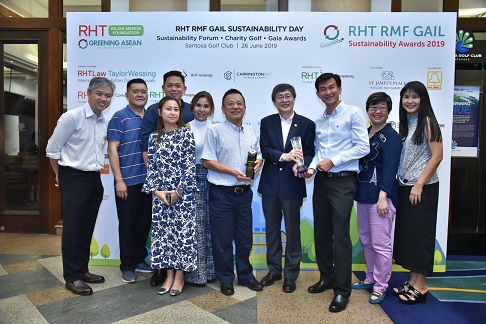 Sentosa Golf Club is celebrating further recognition for its green efforts after picking up an award double during the 2019 RHT RMF GAIL Sustainability Day.
Located on the paradise island of Sentosa and home of the championship-staging Serapong and New Tanjong courses, the club, which strives to be 'the world's leading environmentally-friendly golf venue', collected the Sustainability Gamechanger and Sustainability Innovator titles at the RHT RMF GAIL Sustainability Awards 2019 ceremony.
Attended by leading corporates from Singapore's investment, tourism, banking, food and real estate sectors, the inaugural RHT RMF GAIL Sustainability Day was organised by RHT Rajan Menon Foundation, providing a platform for opinion leaders, sector specialists and industry practitioners to discuss sustainable leadership in Asia.
During her keynote address at the Gala Awards, Guest-of-Honour, Dr Amy Khor, Senior Minister of State for the Environment and Water Resources & Health, commended the efforts of winning organisations which have gone above and beyond to embrace sustainable practice. A total of 14 organisations were celebrated as champions of green growth across six award categories.
The Sustainability Gamechanger title is bestowed upon leading influencers which have driven change in sustainable practices within their respective industries. The Sustainability Innovator award, meanwhile, is a by-invitation-only category to recognise dynamic organisations which have applied innovation to achieve positive social, environment and economic impacts.
"Sentosa Golf Club is extremely proud to receive both of the highly-coveted awards at the GAIL Sustainability Awards, which are further recognition of the commitment shown by each and every one of our staff members," said Andy Johnston, General Manager and Director of Agronomy at Sentosa, a Golf Course Facility Member of the Asian Golf Industry Federation.
"#KeepItGreen is not a campaign but a way of life at the club. Environmental sustainability is at the heart of our club operations and a constant consideration in every decision we make. It is our mission to be recognised as the leading green venue in the world, and for our example to be followed by clubs everywhere. Awards like this are a ringing endorsement for our strategy and prove we are well on our way to achieving this goal."
The awards were judged by a panel of leading figures in the sustainability movement, the corporate and public sectors and academia, and seek to ignite, initiate and inspire organisations to embrace sustainable practices and values.
In recent years, Sentosa Golf Club has increased exposure for its sustainable initiatives through the development of its #KeepItGreen campaign, which launched at the 2018 SMBC Singapore Open. Under its umbrella, the club continues to undertake wide-ranging actions to reduce its environmental footprint, both on and off the course.
In recent times, it became the first golf club in Asia to introduce carbon products into its agronomy programme and to purchase GPS (RTK satellite navigation) spraying equipment in order to improve efficiency and reduce the use of chemicals to an absolute minimum.
It has also reduced plastic usage by banning plastic water bottles and straws throughout the club. The club will introduce waste digesters to convert food and horticulture wastes into fertilisers for Sentosa's golf courses. This initiative has caught the eye of The R&A, who is keen to partner on this project with Sentosa.
Combined with many other measures, these practices have allowed the club to reduce water use by 70%, almost halve its fertiliser usage and save 300,000 water bottles and 120,000 straws a year; outcomes which helped judges come to their decision for the year's awards.
Tan Chong Huat, Chairman of RHT Rajan Menon Foundation, said: "We believe awareness is half the battle and hope that our GAIL Sustainability Day and Awards will help advance the sustainability agenda among the business community. As industries become more aware of the trail-blazers and the positive impact that sustainable practices bring, there will be greater incentive and willpower for other organisations to jump in and pursue green growth together.
"Sentosa Golf Club has demonstrated to the award judges that it has set an industry standard in sustainable practices and made itself a model for other organisations to emulate."