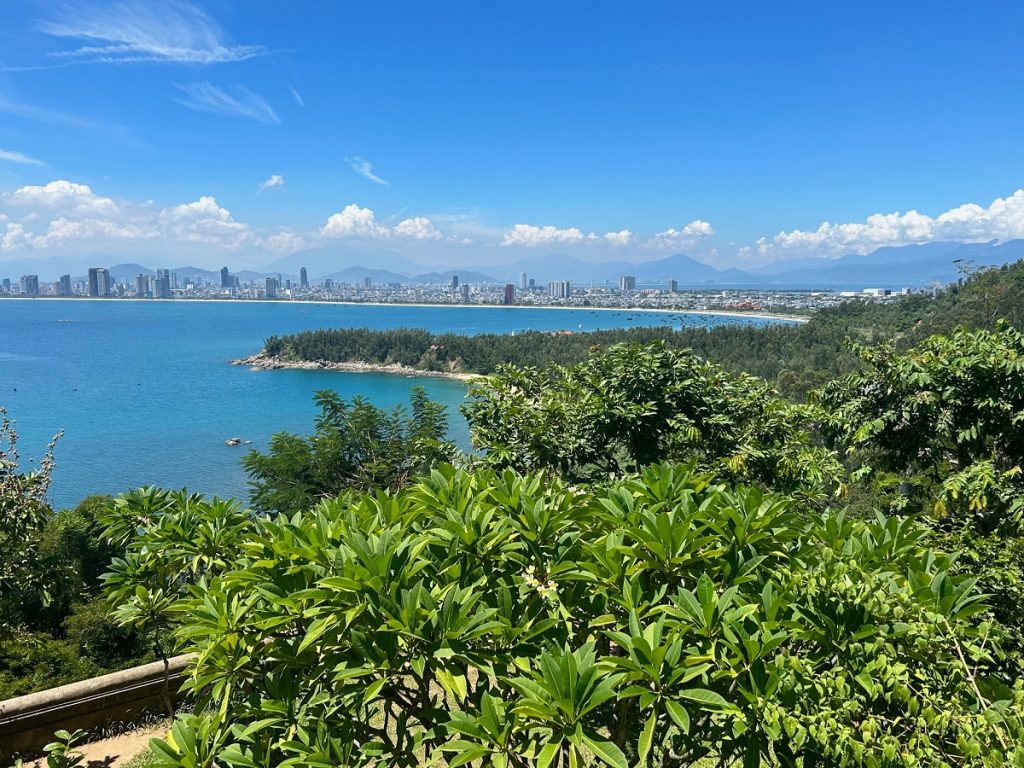 Over the past several years Golf Industry Central has been publishing stories about the journey that the Vietnam golf industry has undertaken for Vietnam to become a true golf destination.
To create a destination that people will travel to from halfway around the world, you need many variables to come together – Golf courses, accommodation, cultural experiences, food, and of course feeling safe is a necessary inclusion.
An invitation to visit was offered back in 2019 to finally visit, but then Covid hit, and travel was off the cards for a few years.
After that disruption and travel being allowed the invitation to come to visit Da Nang, Vietnam finally came true. Ba Na Hills Golf Club took center stage on the first leg of the golf trip in this coastal city which to me had a Brisbane and Gold Coast feel. Not overly busy, beautiful beaches, heaps of accommodation, nightlife, and great food!
Novotel Danang Premier Han River Hotel
Our stay at the Novotel Danang Premier Han River Hotel was exceptional. With panoramic views of the Han River and the bustling city from our 26th-floor rooms, this chic hotel provides the perfect retreat after a day on the greens or exploring the city.
The hotel offered amenities catering to golf enthusiasts and relaxation seekers alike. The infinity pool, with its views of the river, quickly became a family favourite. The fitness centre and spa were perfect for unwinding after a round of golf, and the diverse dining options meant we could savour both local and international cuisine without leaving the hotel.
But of course, you need to have some adventure and visit the local street markets and experience the local culture.
Beyond its renowned golf courses, Da Nang offers a taste of Vietnam's rich heritage and the town of Hoi An is just a short 60-minute drive away.
This UNESCO World Heritage site is a living testament to history, with its ancient architecture and bustling markets.
Thuy Trang a former co-owner of Golf Asian has branched out to form her new company Asia Golf Trails which offers private transport and golf bookings at all the courses in the region. The one-hour private Luxury Van ride to Hoi An was great and the driver Victor gave us a fantastic tour around the region before dropping us off at Baby Mustard for dinner and walking around the local farms. A real highlight of our trip. Of course, the shopping in Hoi An and boat rides at night were not to be missed.
Ba Na Hills Golf Club
Nestled in the picturesque Ba Na Hills about 40 minutes from the Novotel, this layout by designer/player Luke Donald was well worth a hit. A steamy day as usual but having my caddy Ann assisting me in playing a new layout with many blind shots- the round was good.
A long course from the tips, so pick your tees according to your skill level!
This 18-hole gem challenges golfers of all levels with tree-lined fairways and strategically placed water hazards. The signature 12th hole, with its dramatic elevation changes and sweeping panoramic views, is an absolute highlight.
Ba Na Hills Golf Club isn't just about the course; the clubhouse is luxurious and offers great panoramic views of the course and its surroundings. The well-equipped pro shop has everything a golfer could desire, and the practice area is perfect for a pre-round warm-up.
During my visit, I also had the pleasure of catching up with Aussie PGA Member and General Manager Gary Dixon.
The 5th hole, requiring a formidable 250-meter carry from the tips, stood out as a true test. Opting for the Gold Markers brought the challenge down to a more manageable 225 meters. (Aim left down cart path!;)
A Top Golfing Destination
What sets Da Nang as a true golf destination is the variety of various golf courses available within an hour's drive. Ba Na Hills Golf Club is one to make sure is in the mix for your golf trip there.
Da Nang offers not only top-tier courses like Ba Na Hills but also a variety of other attractions and experiences for the entire family.
As part of Sun World Amusement Park Group and over 20 km away from Danang downtown, Sun World Ba Na Hills is the most significant resort and recreational complex in Vietnam. At the height of 1,487 m from the sea level, Sun World Ba Na Hills is coined the "heaven on earth" owing to its spectacular climate and otherworldly natural landscape.
Just travel to Sun World Ba Na Hills and revel in the typical rotation of four seasons in a single day and numerous festivities, recreations, relaxation, and cuisine.
Whether you're a passionate golfer or simply seeking an unforgettable vacation, Da Nang deserves a spot on your travel list. It's a golfing destination that is in its infancy, in a country that is embracing tourism. We all felt safe, everything was pretty clean and the people were friendly.
Following my unforgettable round at Ba Na Hills Golf Club, I was now headed to Laguna Golf Lăng Cô for the next leg of my golfing journey. With cooler beachside weather and a couple of rounds scheduled, I was eager to continue exploring the remarkable golfing opportunities this region has to offer.
Stay tuned for more golfing tales from this great part of Vietnam!