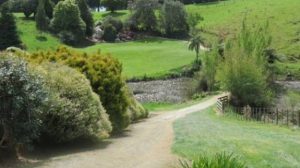 A $40 million four-star resort has been proposed to address a lack of commercial accommodation in one of Waikato's 'destination' towns.
The 120-bed hotel would be developed on the scenic rural landscape of the Waitomo Golf Club site, which is owned by the Ōtorohanga Club.
Despite the Waitomo Caves attracting around half a million people every year, there are few hotels for cave-goers in the rural district.
And this shortage, paired with the lure of the golf course has brought in interest from investors, Ōtorohanga Club president Eric Tait said.
"By September we will have a better understanding of where people sit. We've had between 10 and 12 expressions of interest of which I would say a number of them are very positive.
"We've had a pretty good cross section of inquiries from all the major hotel operators in New Zealand."
The Ōtorohanga Club – which recently combined with the Waitomo Golf Club –  is driving the proposal. It's planned to be at least four star, with the design and style all dependent upon the investor.
It's still early days, Tait said, but it's looking promising.
"A lot more people are wanting that rural outlook. And golf is an international market.
"I daresay 20 years ago we would have said, well, why would we, but there's a shortage of international hotels and we're really only three quarters of an hour away from Hamilton city."
And having a hotel on the site of an 18-hole golf course could attract more city-folk there for holidays or business, Waitomo Golf Club president Noel Hurley said.
"Aucklanders can't play golf in the winter up there because it's so wet," Hurley said. "We have quite a few Aucklanders come down to Ōtorohanga and play in Waitomo.
"Experts came down and [went] around the two towns and the Waitomo village and they kept coming back to the golf club.
"Having it on the golf course is good for [domestic] golf tourers and overseas golf tourers.
"So it's got a lot going for it."
Developing a hotel as part of the existing golf course gives visitors another reason to stay and play, Waikato Tourism chief executive Jason Dawson said.
More quality, large-scale hotels were needed for iconic destinations such as Waitomo, Matamata and Raglan, he said.
"One of the biggest challenges in our region is the shortage of large-scale commercial accommodation."
Waikato is the third largest region for conventions, meetings and business events, behind Auckland and Wellington, Dawson said.
"There is no shortage of demand, however, we need investors to help develop these assets."
  Source – Stuff