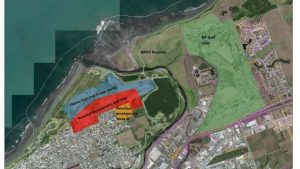 Opponents to the proposed sale of half the Fitzroy Golf Course for housing are calling on councillors to throw the idea out.
The New Plymouth District Council is holding an extraordinary meeting on Wednesday afternoon to adopt – or not – a draft document on the 10 year plan that is to go out for public feedback next month.
Reducing the Fitzroy Golf Course to nine holes and selling the land for residential housing is the number one issue council wants feedback on.
The options are starkly laid out: sell half of the land leased by Fitzroy Golf Club to raise $40 million for "flagship projects", incur an additional 3.7 per cent rates increase to borrow the $40m, or go without any new flagship projects.
The idea of selling the golf club land has already proved highly controversial.
The club has stated its legal advice is the proposal is not possible because they have a right to renew the lease until 2044. And intend to do so, club president Mike Earley said.
A petition against selling the land had 1700 signatures on Tuesday.
Councillors will decide whether to release the draft plan as it is on Wednesday.
Click here to read full article