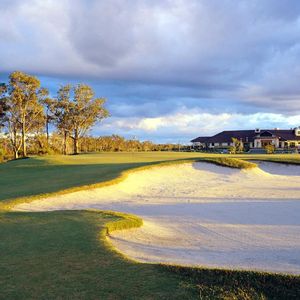 FUTURE residents may not share his golfing virtuosity but they will be around the Great White Shark's vintage.
The latest slice of coastal Queensland to change hands amid the upswing in over 50s residential development is a prized Greg Norman-designed championship golf course with a prime tract of undeveloped land.
Pelican Waters Golf Course, together with an adjoining 20ha development site, has been snapped up by big-hitting manufactured home park developer, Palm Lake Resort.
It is understood the holding – totalling 160ha, including the par 72, 18-hole championship golf course – near Caloundra was acquired for almost $15 million.
Pelican Waters Golf Course consistently ranks well up the field in Australia's top 100 courses.
Its renowned fairways and greens have played host to numerous visiting golfing and other sporting identities over the years.
The 18-hole, par 72 championship golf course will continue to operate under the existing management and the Queensland-based Palm Lake Group plans to establish its third Sunshine Coast over 50s lifestyle community on the undeveloped parcel.
Palm Lake Group is the developer of premier market-leading residential land lease communities, retirement villages and aged care facilities in three states. Operating for more than 40 years, the family-owned business is a proven developer, builder and manager of assets.
Palm Lake Group CEO Manuel Lang says the Group currently looks after more than 7500 residents across its various Palm Lake Resort and Palm Lake Care locations, with a further 1200 homes under development right now.
"We are excited for Pelican Waters Golf Club members, as our redevelopment of the Club and the Greg Norman-designed golf course will exceed all expectations of quality and finish," Mr Lang says.
He assured Pelican Waters Golf Club members that the Group was fully committed to reducing the impact of construction on the golf course, wherever possible.