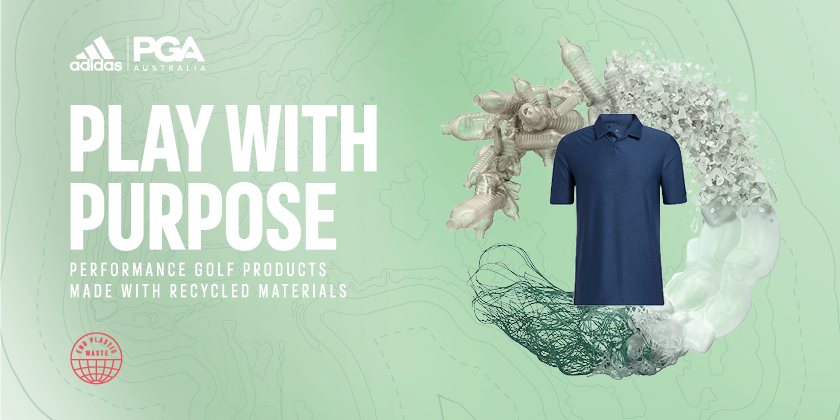 In partnership with adidas' sustainability mission, the current apparel worn by the PGA of Australia staff will be recycled and uniforms issued from 2022 onwards will be selected from a range that is 100 per cent made with recycled materials in a movement to reduce the golf industry's plastic waste imprint.
Each year more than 780,000 tonnes of textile waste end up in landfill in Australia* and adidas are taking an industry-leading stance as they work towards using 100 per cent recycled polyester in all their footwear and apparel by 2024.
Recycled polyester
Already more than 80 per cent of footwear and apparel in the adidas Spring/Summer 2021 line uses recycled polyester and as one of the custodians of the game the PGA understands its responsibility to contribute to the reduction in plastic waste.
Working in conjunction with Save Our Soles, the initiative will see PGA staff wear uniforms made from recycled materials and old apparel recycled rather than end up in landfill where it can take more than 1,000 years to decompose.
"The PGA has a responsibility to help preserve the environment in which golf is played which is why we had no hesitation in partnering with adidas on this important initiative," said PGA of Australia Commercial Director Australasia, Michael McDonald.
"adidas are leading the way in producing exceptional golf apparel that is sustainable for the environment. It is something for which they should be applauded and why the PGA is so happy to support it."
The adidas Golf range now includes products made with Parley Ocean Plastic (PrimeBlue) which is upcycled from the oceans and recycled polyester material (PrimeGreen), highlighted through their Go-To product line, which sits within their 'Play With Purpose' campaign.
The full story PGA Australia
Related Articles: