Q&A with Daniel Bateup, Director of Golf Business Australia
The insurance market h
as been under considerable stress in recent times as a range of both local and global events have conspired to create extremely adverse conditions for insurers, as well as for those seeking insurance. Many are left confused.
Founder and Director of Golf Business Australia (GBA) Daniel Bateup has gained a great understanding of the struggle many clubs and golf businesses are facing through his interactive approach, and has vowed to simplify the insurance process for Australian golf clubs and pro shop owners.
He is celebrating five years in the trade as Australia's leading golf-specific insurance and finance provider, so we thought, who to better answer some of the most frequently asked questions about golf club and pro shop insurance than Daniel?
Question: Why did you decided to start GBA?
I started working in insurance in 2005 after a failed soccer career.  In 2016, I decided to fine-tune my aim and launched Golf Business Australia, focusing solely on the golf industry.  This venture stemmed from years advising and administrating golf clubs insurances before identifying a greater opportunity to service the wider golf business community.
The passion that I have for the golf industry was born out of what I've received from the game in the past; the sport itself and what the industry offers. I started Golf Business Australia because I saw an opportunity, but I also share many people's passion for golf. Being able to combine my expertise and apply my qualifications to an industry that I love was a no-brainer.
Earlier this year Golf Business Australia celebrated five years in the industry with over 100 golf clubs and facilities in our clientele.
Question: Who does GBA partner with?
Golf Business Australia believes in a united industry front and we are always seeking out relationships in the industry with golf industry experts and government bodies to benefit our clients. We are proud to be an Insurance & Risk partner of Golf NSW and an Official Licensee of The Australian PGA.
Our interactional approach has gained invaluable partnerships with industry peers such as Martin Minett, Business Interruption specialists, and other golf industry risk pioneers such as Epar, Country Club Intl and Employsure, to deliver an end-to-end risk solution for our clients.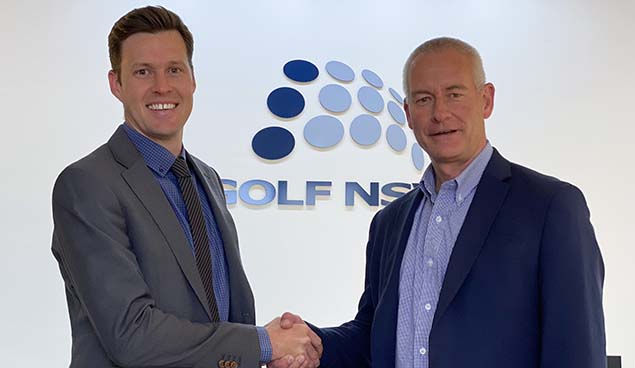 Question: What sets GBA apart from other insurers?
In short, our passion for the game and our personal and interactive approach.
Golf Business Australia understands all the different nuances of the golf industry and is taking a holistic approach to reducing risks at your golf facility. This will subsequently help lowering insurance premiums for your facility and avoid increasing preventable type losses claims further.
We want our value proposition to extend beyond insurance expertise via working partnerships with like- minded peers, to improve a facilities risk profile and negotiate more favourable insurance premiums as a result. As your insurance partner, we believe in interaction and providing on-going risk management advice to assist you in eliminating and reducing the risks associated with your club's activities.
With GBA you're getting more than just experienced golf industry insurance advice, you're getting a risk management partner with a plan.
Our points of difference are:
We believe in partnerships & interactions, NOT transactions!
We assist on ANY outstanding claims matters through to satisfactory settlement.
We address cover concerns recognised in your current and quoted insurance program
We provide priority first-class service and ongoing experienced advice.
We maintain unrivalled insurance protection at the markets most competitive premiums.
We introduce innovative finance solutions aimed to reduce costs and add value to your club.
We promote and support your club via social media & our industry network.
Question: How do you understand clients' needs?
Every golf business has a unique risk profile. Our risk assessment process will identify the type of risks your club or golf business is subject to and determine whether insurance is available and appropriate.
We are able to do so by engaging in the community, on the course, and in the pro shops. These interactions result in better quality insurance solutions because we understand exactly what it is you do, the risks involved and how to match the right level of cover at a price that is affordable.
We operate in the same network as your business, and more importantly, your clients. By keeping in touch with about your organisation as it grows and changes over time we can advise on any relevant changes you may require to your cover as a result.
Question: What is the Outback Insurance Initiative?
Australia's many golf clubs come in a diverse range of shapes and sizes and are experiencing significant micro and macro change and increasing challenges depending on location, population and funding.
Some of the greater challenges for clubs located in the Australian outback relates to the population and participation decline, which impacting negatively on club's membership recruitment and retention. These clubs are also suffering the effects of rising cost structures and increasingly complex governance responsibilities placing strain on volunteer committees and boards.
At GBA we can offer regional clubs a review of their insurance as well to help slash fees even further where possible and assist in conserving these significant community clubs across Australia.
Read more: How GBA has helped clubs in the outback with their insurance needs.
Question: What's business interruption?
Extreme weather events has changed the way insurance carriers evaluate property risks for golf and country clubs in Australia, and the availability and terms of coverage they're offering. Golf clubs and facilities in cyclone-prone areas especially need to assess their risks and prepare for what could happen, in order to minimise the financial effect of business interruption caused by severe weather events.
Commonly, most commercial property insurance claims focus on physical damage, instead of economic loss. Often the income impact from closing your course due to damages from catastrophic weather events is more detrimental than actual repairs.
This is why business interruption insurance is critical. When an unexpected circumstance causes your course, pro shop or driving range to close suddenly, your income and livelihood are protected.
Question: What is association liability?
If you are a board or committee member of an association or not-for-profit organisation (NGO) you can be held personally liable for decisions made on behalf of that association and staff. The consequences can lead to civil, or even criminal action.
Once an association or organisation is registered, its separate legal status, property, rights and liabilities continue until the company is officially deregistered by ASIC. However, even after the business has ceased trading and has been deregistered, obligations as a board or committee member may continue. A fundamental duty of a company director is to cease trade while a company is insolvent. Therefore, under certain circumstances, directors may be personally liable for debts incurred by the company if the company is unable to pay those debts.
So how does this happen?
Well. Directors of a company in financial distress generally appoint an administrator. This administrator may subsequently put the company into liquidation. The liquidator then alleges the directors have allowed the company to trade while insolvent during the six months leading up to the administrator's appointment.
Defence costs and the directors' personal liability in such cases have the potential to reach a 7-figure sum.
Question: Can you insure my club against cybercrime?
Absolutely! Golf Business Australia specialises in protecting businesses from cyber risks to every IT facet of their business – hardware, software, networks and employee error.
At GBA we understand cyber security and our policies are the result of our extensive cyber risk and insurance expertise, combined with the technology, knowledge and partnerships with experts.
GBA offers two levels of protection:
Our Cyber Event Protection policy provides comprehensive cover, and gives you the option to extend coverage to contingent business interruption, tangible property as well as cyber theft and telephone phreaking. Cyber 1st Aid does not offer this option
our Cyber 1st Aid policy provides coverage for losses to your business, including some legal expenses, but does not include liability coverage or defence against third party claims.
A cyber-attack or breach can cause direct financial loss, damage and/or disruption to business operations. It can also give rise to third party liabilities if a negligent or malicious online act results in identify theft, credit card fraud, invasion of privacy or any number of other losses.
Protecting your golf business against losses associated with cyber risk makes good financial sense and should be a key component of your cyber risk mitigation strategy.
Question: How does a hole-in-one insurance work?
Hole-in-one (HIO) insurance is a type of price indemnification, working just like any other kind of insurance policy, except that instead of insuring your property against damage or loss, you are paying a premium to eliminate the risk of having to pay for a prize if someone is making a hole in one during your golf event.
HIO insurance allow golf-tournament sponsors that run contests to offer punters big-ticket prizes if they're lucky enough to score a hole in one on a single try. The prize indemnity permits for contest sponsors to leverage a relatively small expenditure into a major prize, creating a buzz and generating more tournament participants, and is a nice way to pad the numbers at the clubhouse bar.
Effectively, HIO assurance transfers the risk of paying out pricy award from the club or event organizer, over to the insurance company. For the insured entity, the cost of this type of product is far less than the unlikely, but large expense of paying a grand-prize winner.
When you consider all the factors, purchasing HIO insurance is an easy decision and a must for charity golf tournaments. When you have HIO insurance, you can gladly give out that huge prize and actually root for players to win it.
Is your club insured?
If you need your insurance cover reviewed and quoted at your golf club or facility – please get in contact with Daniel on 1300 852 025. He customise a plan that works to protect your assets, and revenue, from the unique conditions and threats of your golf business.
Daniel builds a personal relationship with each client and takes the time to understand your particular needs, whether it be Pro Shop Insurance, or a range of other personal insurance products.