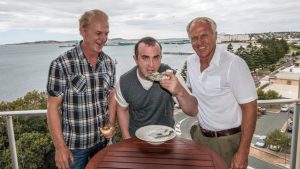 A golf course in the shape of a great white shark, to be designed by champion golfer Greg Norman, is planned on coastal land that is significant to South Australia's Barngarla people.
Developer Dean Lukin Junior signed an agreement in July to revive the proposal on a former BHP sand-shipping site south of Port Lincoln, on SA's Eyre Peninsula.
A distinctive shark-shaped golf course, surrounded by high-end residential homes, is planned.
The course is proposed for bushland surrounding a shipping wharf near Murray Point and Billy Lights Point, where the Lincoln Cove Marina was developed in 1986.
Fishing traps
Barngarla Determination Aboriginal Corporation (BDAC) chairman Jason Bilney says the area has significant fish traps.
He said others had been destroyed in the construction of Lincoln Cove Marina's waterways in the 1980s when there was no native title.
A draft environmental impact statement (EIS) from 1984, that was part of Porter Bay Marina's (now Lincoln Cove Marina's) planning process, stated the natural environment of Porter Bay was severely degraded and landscape alterations might have "disrupted the remains of campsites, shell middens and graves".
A supplement report to the 1984 EIS identified one fish trap would be lost when the marina was developed.
"However this was regarded as acceptable, as it was considered, at best, a poor example of a stone fish trap and may in fact have some other origin such as a series of stepping stones," the report stated.
Another fish trap, on the north edge of the entrance, was considered "highly important" and consisted of about 50 wooden stakes in the mud flat.
The report stated there were more fish traps within the estuary and bay than were recorded in the rest of the state at that time.
Mr Bilney said one fish trap was removed to be preserved.
He said native title could provide a pathway to protect significant sites at the proposed golf course development.
"There are significant sites … there, passed down from generation to generation through our parents, through our grandparents, back through to the next generation," Mr Bilney said.
"It's about respect for Indigenous owners and respect for culture and connection to country," he said.
Lukin Corporation developer Dean Lukin Junior said consultation would be part of the process.
Read full story here
Related Articles: