Manage your Pro Shop like a Pro: ProShop Solutions is Australia's leading industry platform for golf professionals, making buying, telling and selling in a digital world pain free and effortless. Now with the new Golf Hub App making it easier then ever.
The modern golf club shop, much like the golf business itself, has been forced to conform to modern-day times. Today's shops must deal with fiercer competition from off-course and online big-box stores, tighter budgets and shifts in customer tastes and behaviours.
It's no longer a case of "If you build it, they will come." Just as clubs and courses have to work harder to retain and grow their customer base through creative marketing and enhanced customer experiences, their pro shops are now encountering greater challenges to give their customers reasons to shop on site.
It's fair to say, running a golf pro shop these days can be tricky business, and in some cases, it's more like cramming five businesses into one…
The Modern Pro Shop
The various areas to manage for a green grass retailer include more than just tee times and equipment hire. More often than not you will also be expected to handle a club and buggy hire service, club repairs, golf lessons and clinics plus the retail section with a range of clothing and apparel, shoes and accessories.
On top of that, as a Pro Shop owner or manager you most likely will have to deal with staff, occupational health and safety issues not to mention payroll, and superannuation administration, making the task of running a successful business seemingly impossible at times.
And let's not forget, managing stock in a retail environment is always challenging, with obsolete stock, new models being released and of course, cash flow pressures. You need to consider seasonal factors plus keep up with the trends, the new releases and the technological change.
Having a one-stop-shop – a digital platform – to help you manage all of the aforementioned duties can mean the difference between survival and success for a modern-day golf shop.
Maximise your sales: Online stores
The internet has inevitably change the way we do business today, with online retail giants like Amazon and Ebay working as a one-stop-shop for whatever you need, available to anyone, and anywhere in the world.
These e-commerce stores have now moved in on the sporting goods market – affecting nearly every subset of retail in every vertical and category. The shift in consumer behavior and spending habits extends to golf as much as in other markets.
Gone are the days where consumers had to physically walk into a golf shop to buy the latest equipment or apparel; every brand, every item is now at your fingertips, only a click of a button away. As a result, both brick and mortar and internet-based retailers fear being overshadowed by these bigger and more versatile rivals.
According to a recent NGF survey "37% of golfers bought golf-related merchandise online last year, accounting for a growing percentage of total golf merchandise sales. And more than half of those who purchased golf merchandise online in the last year did so at a general online merchandiser such as Amazon (57% for golfers and 58% for core golfers)."
As the market for sports equipment continues to evolve, Amazon in particular has gained significant presence in the golf consumer space. The change in consumer behavior for many golf-related purchases is now becoming a real threat to the traditional golf shops and green grass retailers.
It might still be the best experience to buy a golf club where you get a chance to feel it, touch it, hold it and get fitted for it for exactly your game. But for purchasing other goods; apparel, golf balls and items where customers are already familiar with the brand and size, the online market is superior.
Therefore, consumers now expect their green grass retailer to offer a satisfying cross-channel shopping experience, whether it is to browse and/or research online prior to making store purchases or order goods online followed by in-store pickup.
Today, to compete anywhere, you have to be everywhere. How would you like a fully stocked shop that only exists online? You'd never have to merchandise it, never set it up or maintain it, but the cash from every purchase would still go straight to your PayPal account?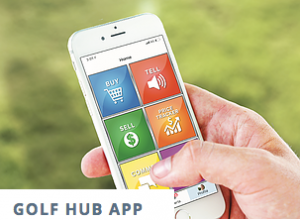 ProShop Solutions makes buying, telling and selling in a digital world pain free and effortless. Designed for intuitive navigation, your Golf Hub dashboard applications allow you to quickly and easily benefit in three key business pillars: wholesale buying, retail selling and consumer marketing. Our Golf Hub sales platform is designed to maximise time and cost efficiencies while also maintaining industry leading outcomes.
Maximise your sales: Golf vouchers & gift cards 
They've been around for a while, and for a good reason. If you're not using them, you're not maximasing your sales at your green grass facility.
Gift vouchers, physical or electronic, are a $160 billion industry and have a proven track record of growing your business. Companies such as RedBallon, an Australian online experience gift retailer, is a testament to peoples' willingness to buy and use gift cards for themselves, as well as for others, with over 1.4million in sales over the charismas period only. ProShop Solutions the Australian reseller of marketing and sales platform the Golf Hub reported online gift cards contributing 87% of just over $100k in online sales across green grass clients this quarter.
And the benefit for your golf business can be plentiful. Beyond attracting new clients, it's not uncommon for gift card recipients to spend more than the amount on their card, boosting your overall sales at you pro shop. Getting your customer in the door with the help of a voucher is the first step to potentially up-selling your customer.
A recent report on gift card trends by Paytronix highlights the significance of a gift card program to a shop or brand's overall sales. The survey found a consistent 10 per cent year-over-year growth in gift card sales, and revealed that gift cards are redeemed more frequently and contributes to higher sales in the online order channel, with a six per cent increase in check size on orders placed and paid for online with a gift card.
Gift cards can also be used to reward customers for their purchases. If you have a loyalty program, you can give customers a gift card once they've spent a certain amount. Or run promotions where you give customers a gift card for 5% off their purchase. Both promotions create goodwill and encourage customers to make a return trip to your business.
So, make sure you expand your customer base this upcoming holiday season by offering golf vouchers to your current customers to give to their friends and family. With pro-shop solutions, you can create customised electronic or physical golf vouchers that are ready to work with your business management software.
The  The Golf Hub unique platform allows management to be ready for every aspect of the business, guiding PGA Professionals on a revenue growth journey within the Pro Shop business through marketing systems and customer engagement.
ProShop Solutions
"Data analytics has come on strong in the business world over the last decade, which has helped to create smarter business operations. However, the wholesalers and suppliers who have the required resources and access to analytics software have much better adopted the advantage of big data," says ProShop Solutions' Founding Director and PGA Member Lee Owens.
"I believe access to relevant and simplified data drawn from the Australian golf industry will be the most beneficial technological advancement over the next decade."
Born into the golf industry, Owens has devoted his career to help untangle the digital software maze for golf Pros, providing cost efficient and results based client communications and retention outcomes.
The need to de-clutter the digital space for Australian golf Pros became apparent to Lee through his first company, Achieve Golf, when joined forces with Kalmaniens Golf in 2016 to provide marketing and sales strategies to PGA Member owned and managed green grass Pro Shops.
"While working with such a large volume of Pro's it became apparent that the digital space was only becoming more confusing, which was creating time and cost challenges for the club Pro's," says Owens.
To clean up the space and take the hours of research and decision making out of the equation, the ProShop Solutions team constructed a committee of PGA Member retailers to provide ongoing feedback and guidance as the company set about designing a one stop green grass golf sales and marketing dashboard.
The groundbreaking digital platform the company developed and brought to market a year ago has now been adopted by over 120 active PGA Member subscribers in Australia alone.
 The Golf Hub App solution
The company's new Golf Hub App is a comprehensive marketing and sales platform designed to maximise time and cost efficiencies while also maintaining industry-leading outcomes.
"Measuring the success and effectiveness of the Golf Hub, our team became aware of the time challenges still existing for many green grass retailers." says Owens.
"The Golf Hub App was designed to meet two very specific objectives; reducing time and secondly, lowering the cost for the Pro's while still achieving strong results and overall satisfaction."
And in the few weeks after its launch, the app subscription has delivered in both areas, while also providing a fantastic entry-level product at a price point no Pro has flinched at.
How it works
The app display makes it quick and easy for Pros to tick every box required of a modern business and it can be done from home or on the move.
As a ProShop Solutions subscriber you receive your own customised Golf Hub Dashboard and integrated Golf Hub App. Designed for intuitive navigation, your dashboard applications allow you to quickly and easily benefit in three key business pillars: wholesale buying, retail selling and consumer marketing.
As the leading golf industry digital marketing specialists, ProShop Solutions drives golf shop sales and turnover growth through multiple streams:
Grow your customer base – we provide subscribed Pro Shops the opportunity to retain golfers contact details through a host of data capture facilities.
Live guest sign-in – Collect measurable feedback to report to your Board and capture the data of a willing customer base!
Book out coaching clinics – Promote your Golf Clinics and secure bookings with custom built professionally designed engagement email campaigns.
Book out fitting days – Promote your supplier supported fitting days and secure bookings with custom built professionally designed engagement email campaigns.
Promote online buying – Promote your supplier supported online shop and close sales 24/7 with custom-built professionally designed engagement email campaigns.
Promote community fun – Sit back and enjoy the engagement that your suppliers creative and interactive challenges bring to your Pro Shop.
Build your own campaign – Any campaign or promotion you can imagine, we have the graphic design and digital know how to bring to life!
Send monthly newsletter – Subscribers can seamlessly flow between written content, video views and online purchases without ever leaving your email!
Online shop – A fully stocked shop that only exists online. You'll never have to merchandise it, never set it up or maintain it, but the cash from every purchase still goes straight to your PayPal account. Every subscriber gets one for free!
Sounds good? Are you ready to take your Pro Shop to the next level? Contact ProShop Solutions today!
If you're interested in finding out more about ProShop Solutions, please contact Lee Owens on 0426 234 526 or email on leeo@proshop-solutions.com