A sprawling lake tapping into a historical watercourse is likely to be the first element to take shape when Brisbane City Council begins redeveloping Victoria Park – pitched as the city's answer to the world's great inner-city public spaces.
Finalised vision
The home of an 18-hole golf course since 1931, the council-owned site will become public parkland in June when the course closes, although the mini-golf, driving range and function centre will remain.
A draft vision was released in January after an initial round of public consultation – followed by a second – with council unveiling the "finalised" vision on Sunday.
Lord mayor Adrian Schrinner said this included a high-ropes course, a canopy walk and a waterplay gully. The percentage of tree canopy, shade and natural bushland will be boosted from 10 to 60, with the number of new buildings scaled back following the feedback.
"Within six months we will see this golf course close down … and the transformation will begin," Cr Schrinner said at the site on Sunday.
"From day one [we will] have spaces in this park that people can use while other sections of the park are closed off for renovations and construction."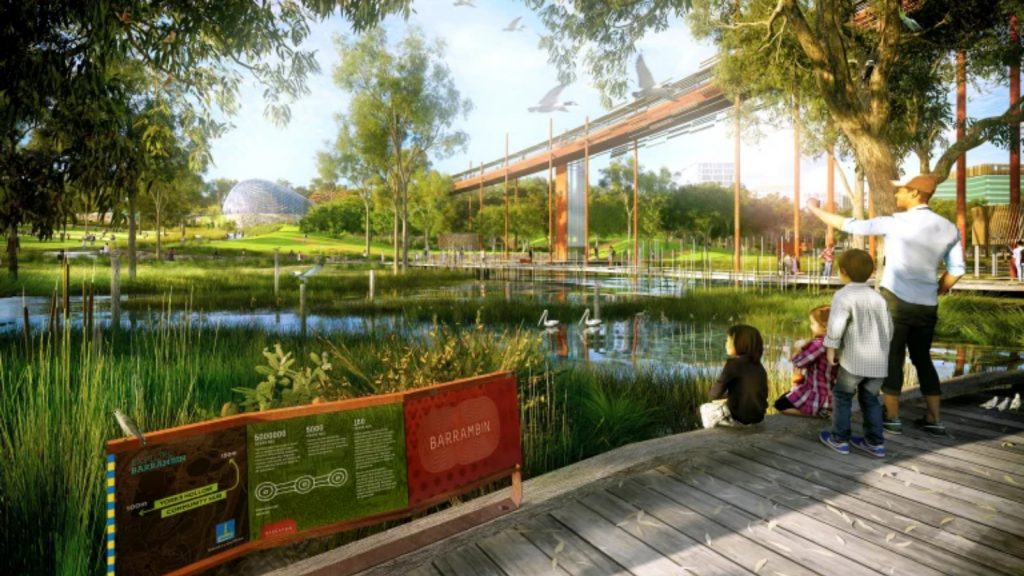 Cr Schrinner said discussions were under way with Indigenous groups about the site's original landscape, and on design features that could acknowledge its history.
Multi-storey facility
A review of the level of parking needed will also be undertaken, with a multi-storey facility on the cards.
Cr Schrinner said the construction of "Lake Barrambin" at the north-eastern corner would likely feature in the first stage.
"We want to take advantage of what was the natural waterflow in the past and actually turn that into a lake that has advantages for not only collecting stormwater for use in irrigation but also recreational benefits as well," he said. "That's obviously a big job to create the lake, but we'll be keeping the community informed."
Council's Environment, Parks and Sustainability Committee chair Fiona Cunningham said further work on a comprehensive masterplan would be carried out ahead of the course's closure.
Establishing transit links for pedestrians, cyclists and public transport would also be a major focus of the first four-year stage, though work involved in the "once in a generation" redevelopment is expected to extend well beyond that.
Pay and play course
More than half of the 45-hectare site had been in use as a pay and play public golf course that had seen declining visitors and revenue before news of the park was announced in June last year.
An initial $1 million was allocated by council over the 2019-20 budget for community consultation and design of the proposed parkland – more than double the size of the City Botanic Gardens.
Cr Schrinner has said council will take on debt to make the vision a reality, with its 2020-21 budget setting aside $83 million over four years for the initial planning and works.
Public comment on the draft was extended beyond the initial April 28 closure date due to the impact of COVID-19 restrictions on some planned consultation.
The Greens' Gabba ward councillor, Jonathan Sri, had criticised the draft plans for dedicating too much of the site to parking, given its inner-city location and proximity to busways and train stations.
Source: Brisbane times
Related Articles:
Brisbane's Victoria Park GC to be converted to major parkland attraction