It might not say e-v-e-r-y-t-h-i-n-g about people's real life interest, but when IGEA via Game Sales Data (GSD) provided their game sales analysis last month, revealing cartoon golf by Super Mario to be topping the charts in Australia, when the majority of Kiwis much preferred anime sci-fi instead, it begs the question:
Are game sales a reflection of the popularity of the sport in each respective country?
Mario golf : an Australian hole-in-one
There were some unusually large differences in the countries' top three video games at the end of June, where Nintendo's new rendition of cartoon golf Mario Golf: Super Rush quickly rose to the top in Australia, but didn't make the top list at all across the Tasman Sea. Some encouraging news for Australian golf maybe, but with that said, "Mario Golf" is not exactly a one-to-one golf simulator.
According to Nintendo, the game is made for professional golfer as well as complete novices:
"New players and seasoned pros alike can drive and putt to their hearts' content, thanks to simple motion and button controls. The new version of the game has more features and modes than any of the previous six instalments, but could arguably be the one furthers from the real thing.
But the reviews are in: the game is considered most fun in its standard golf mode (which is the most recognisable to golf.)
So why is the game so popular in Australia? One simple explanation could be continuous lockdowns and stringent covid-19 restrictions. Naturally, people will find new ways to keep busy while at home. As many golf establishments closed down during the worst of the pandemic, including golf facilities, video game designers were quick to go to work on video games for deprived golf fans.
And historically, innovative formats has proven successful in enticing not only beginner golfers, but avid golfers and even aspiring golfers.
Topgolf golf simulator and entertainment venues are only a recent example.
The rise of golf simulators in Australia
The surge in golf entertainment venues over the past few years has seen the interest in the sport met with renewed vigour. Gaming formats offering a hyper-social, stress-free take on the game have proven enticing not only beginning golfers but avid golfers and even aspiring golfers.
Because of its popularity in the U.S and around the world, Topgolf's point-scoring design has been christened the fastest growing form of recreational golf engagement of our time. The popular franchise are currently operating out of 50+ Topgolf locations around the world, and if you struggling to see the attraction of golf simulation, just take the drive out to Oxenford on the Gold Coast to Topgolf's latest (and Australia's first) indoor driving range and you'll soon see what all the fuss is about.
The experience is the next big thing to ten-pin bowling– on steroids. With a large rooftop terrace, decked out with fire pits and live music on weekends, the regular pub/club goer will easily find their feet regardless of their level of golfing expertise.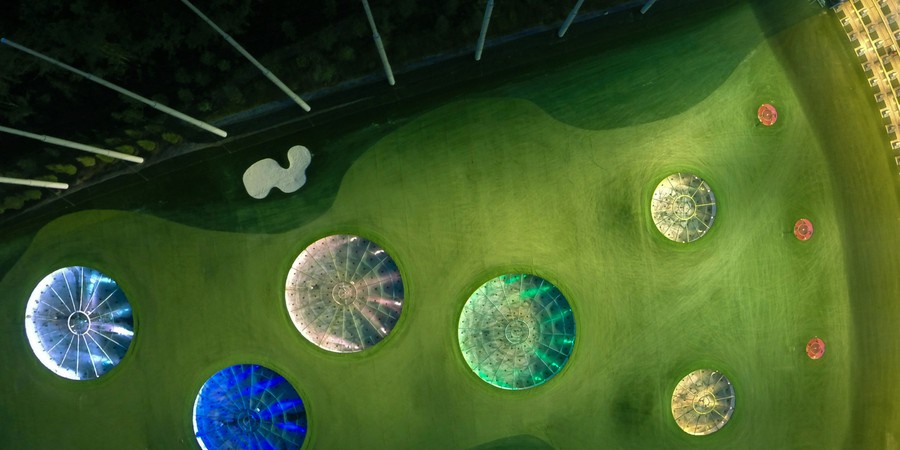 The three-leveled venue has made space for 30 modern, climate-controlled playing "bays" per floor (90 in total), allowing for up to six players at any given bay. On screens you select any of the eight games available including Top Scramble, Top Pressure and Top Shot, and the micro-chipped golf balls will determine your accuracy and distance, and subsequently, your level of skill.
With an estimated annual revenue currently at $10.7M per year, it's safe to say that Aussie are not oppose to a bit of "pretend golf", whether it be at Topgolf or at home in front of their TV unit playing Super Mario. But what are these alternative golf formats' popularity telling us about the participation in the actual game?
Let's look at the numbers
Australian golf participation on the rise
It had been a long time coming for the sport but finally in 2020, golf started to surge again. For the first time in 21 years, Australian golf club membership were up by a recorded 0,5 per cent last year, including all state and territories.
Among other key positives were a 33 percent increase in the number of 9-hole competition rounds through "Play 9", a combined initiative of Golf Australia and the R&A. There was also a 2.7 percent increase in junior club membership, the first increase in junior membership for more than 10 years.
And golf's "summer boom" continued well into early 2021, with figures released by Golf Australia showing handicap rounds of golf played leapt by 12 percent in the 2020-21 summer months compared to the previous summer's figures. It would appear, while many other sports were sidelined throughout the pandemic, golf remained accessible for all throughout most of it.
One could only assume that, when lockdowns re-entered our lives recently, the increased number of keen golfers would make sure they could play the game still, even if it meant they had to play in in their living room.
The new Golf 2.0 strategy
At a forum I presented at on Growing the Game a few years ago, I asked 40 Club Captains if they thought people that played virtual golf, Wii Golf, or putt putt were actually "golfers. All but one person said NO they did not consider them golfers. A very interesting, but not surprising answer.
In this day and age- we should be considering everyone that likes golf- even if only watching it on TV, a golfer, or at least a "potential golfer. When you start thinking of the actual potential number of players out there it is huge!
The new Golf 2.0 strategy launched in the US identifies 3 key areas to growing the game of golf. Yes it is a US based program, but the information contained is very relevant to golf in any region. 3-key areas
Retain/strengthen the core golfer
Engage with the "lapsed golfer (i.e. people that use to play but haven't for some reason)
Drive new players. (never played)
Item 1 and 2 is where most of the discussion in this country has been centred but item 3 looks to have the biggest potential in the way of bringing an entire new group of people into the game.
We though need to start engaging these players (i.e. Virtual golf, Wii, putt putt) in a big way to then come try the "real game. Our mindset needs to change away from "you must play on a real course to be considered a golfer mentality to "If you like golf- you are a golfer. Or at least have the potential to become a golfer in the traditional sense someday.
The bottom line…
Despite the game's somewhat mediocre reviews, Mario Super Rush is unique as it provides you with ample information on playing the sport and update your current skills depending on the game version. You can use the tips on the course to have fun while playing. Also, some of the tricks on video games are applicable on the physical golf course. Past iterations have focussed on making the rich man's game more approachable and Super Rush even more so.
So to reiterate, last month's Game Sales Data might not say everything about people's real life interest, but it might tell us something.
The high sales figures of Mario Golf: Super Rush in Australia can only indicate a continuous interest in the game, no matter what format. And with most of Australia in and out of lockdown currently, maybe a video game is what we need to "tie us over" until we can go out and play a real round again?
So this begs the question: "Why don't we use more non-traditional avenues to introduce new people to the game?"
The game itself doesn't need to be changed for the masses, just us allowing different access points to a "game that then will be a pathway for some to try the traditional format- then onto membership for some as well?
I'd love to hear your thoughts and feedback on what you are doing to Grow the Game?
As always, your input, comments and feedback are much appreciated!
by Mathilda Andersson & Mike Orloff
More Mike Space: