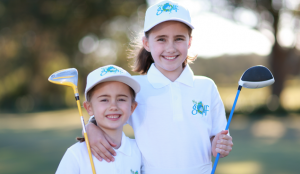 Golf Australia (GA) has this week published the complete blueprint for Vision 2025  – an initiative to generate greater female participation, involvement and inclusion in golf all around Australia.
Spearheaded by the national body, the scheme "Vision 2025: the future of women and girls in golf" was first announced in February earlier this year during the ISPS Handa Women's Australian Open, and is set out to address the current gender imbalance within the sport.
"Vision 2025 is, critically, an industry-wide approach and we are investing all available resources into making it a success," said Golf Australia chief executive Stephen Pitt.
"It's the single most important issue inhibiting growth in Australian golf. For too long, we've collectively watched as some of our programs, clubs and facilities have become places at which female golfers, and even more importantly, prospective female golfers, don't feel welcome and encouraged."
According to recent numbers, female club membership rates are at a record low of a mere 20 per cent of the nations total. Part of the new strategy is to encourage clubs nationally to provide equal access for both genders on all days and for clubs to take on more female board members and senior executives.
The recently published document outlines the vision's four-pillar strategy, which aims to create an environment where women and girls are inspired to participate, feel welcomed and nurtured throughout, and empowered to achieve their goals within the sport.
The four main pillars of Vision 2025 are:
Culture and leadership: more women on boards and in senior positions; opening up clubhouses and courses and making them more welcoming – equal access, equal rights.
Grassroots: introductions to golf that are friendlier and more social; more emphasis on fun and family; better transition to courses and clubs; hubs and networks for women and girls.
High performance and coaching: More heroes to inspire the next generation; more female coaches to nurture and develop them; more chances for the elite to compete and hone their skills.
Marketing and positioning: Changing the way the sport is perceived; more women and girls proud to say 'I play golf'; promoting the fun, healthy, social game – a second sport and a sport for life.
The initiative has also engaged two new female staff members at Golf Australia, partially funded by the R&A – Female national pathway manager Stacey Peters and National female participation manager Chyloe Kurdas.
Click to download the full Vision 2025 Strategy (pdf)
SOURCE: Golf Australia