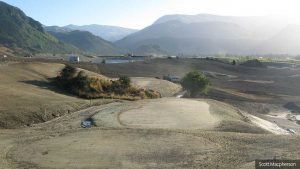 Scott Macpherson and Greg Turner have designed a second nine for the Coronet course at Millbrook Resort in Arrowtown, New Zealand.
Millbrook opened its first 18-hole course in 1992, designed by John Darby and Bob Charles. Macpherson and Turner, a former pro golfer, added nine-hole Coronet course in 2010, while also revamping four holes of the original course.
The new nine holes will join the Coronet to form an 18-hole course that will host the New Zealand Open in 2021. The expansion will see Millbrook comprise of 36 holes of golf. The resort has not yet announced what the names of the two 18-hole courses will be. The new design also incorporates space for a 42-lot residential development.
"We are working hard to make sure the new holes have a similar feel to the existing Coronet nine," said Macpherson. "Having said that, the land for the new holes is elevated on a plateau and due to the rocky outcrops, valleys and extensive views of the surrounding mountains it is perhaps more dramatic. The new holes will add beauty and drama to the golfing experience."
Construction started in August 2018 with contractor TIC Golf Projects – who built the Coronet nine in 2010 – and project managers from Signal Management Group.
Click here for full story