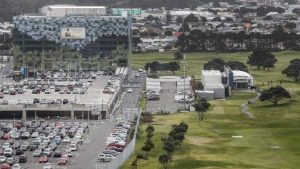 Wellington Airport has offered Miramar Golf Club $31 million to take half of the club's land and turn some of it into a zone for parking planes.
The move will help pave the way for "future passenger growth", with an aviation industry expert saying it's also likely to help cater for more intensive screening on regional flights.
According to information obtained by Stuff, the airport has offered to pay the club $10m up front if the offer is accepted, with the remaining $21m – which would be adjusted for inflation – to be paid by August 2023.
The club will put the offer to its members at the end of August, with a decision on the sale to follow.
A letter to members from the club's board chairman, Paul Warren, said the airport made an initial purchase offer in May, but the offer "fell short of our expectations".
It's understood two offers were made before the $31m figure was settled – one for $9m and another for $25m.
click here to read full story