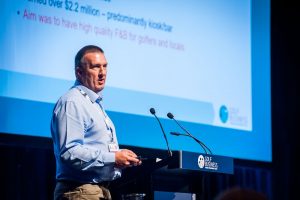 Without doubt, the most positively rated presentations at the inaugural Golf Business Forum in 2016 were from the "Facility Showcase" speakers – managers/owners from three fantastic Australian courses whose honest, interesting and inspiring presentations were definite highlights of the two day program. It was great to see outstanding examples of public golf facilities hitting their stride and moving forward with exciting masterplans or innovative marketing initiatives. Who better to inspire us than our own? Whether you are in the process of developing a business case for a new major project or just trying to think about how you can do things differently at your own facility, it is always a good idea to learn from people who have been there before.
One of those speakers was Matt Day, General Manager at Wembley Golf Course in Perth, who was the Project Manager for an enormous 14 year $30 million capital works program at Wembley which was undertaken by course owners, the Town of Cambridge. Matt's presentation described how the project started, his challenges in building the business case for each aspect of the project, the work involved in sourcing best practice design and technology and the steps he and the council took when making decisions about priorities, timing and customer experience. It was a fascinating look at what can be achieved and Wembley serves as a shining example of innovation and dedication to delivering an excellent facility for current clientele whilst also delivering quality experiences for new customers, golfer and non-golfer alike.
Stage 3 of the project, involving a mini-golf course, playground and new function spaces and bar/restaurant was launched in late 2016 and we asked Matt how things were progressing.
Since you launched the mini golf facility in December, how has it been performing?
Our new mini-golf facility opened in mid-November last year. We've had a great response from our golfers and the local Perth community and the business performance has so far been at the upper end of our forecasts. The feedback has been excellent and I think the quality of the final product has only served to enhance the reputation of the business as a whole. I'd say it has been an unqualified success!
How has introducing mini golf and a playground changed the business? Are you seeing a new customer audience?
Both the mini-golf and playground developments have brought a new and varied customer base to the facility. The playground is appealing to locals and customers of 300 acres (our new bar and restaurant) as it adds an extra dimension to the utility of the site by families. The interest in the mini-golf facility has been outstanding – many of our new customers are non-golfers and the age spread is as wide as 4-year-olds to 80-year-olds. It has been very popular with both male and female millennials and the level of interest from corporates seeking an experience for staff and clients has also been very encouraging.
What's the driver for a playground? Wembley has a great track record of showing a return on investment, is the playground expected to pay for itself?
The vision of Wembley Golf Course being an active community hub has been was at the forefront of the decision to proceed with the playground facility; we were striving to create another reason for local families to visit us. As I discussed in my presentation to the Golf Business Forum in 2016, the playground was the only element of the masterplan that did not have a business case put to Council for approval as it is difficult to quantify the payback for that kind of investment. That said, more and more families are travelling from outside the Town's boundaries to use the playground because the playground creates a reason to stay for a while and enjoy time together, particularly combined with the quality hospitality offering from 300 acres.
The new function centre and restaurant is open, how is it working with a specialist hospitality operator?
I'm happy to report that both 300 acres (restaurant and bar) and Ambrose Estate (functions venue) have been very well received by current and new customers alike. Once again, both venues have delivered new non-golfing customers to Wembley and this new clientele, as well as the fact that the venues are open seven days, have brought about a fantastic new vibe to Wembley as a whole. By all measures, 300 acres and Ambrose Estate have been very successful since their launch and we have an excellent working relationship with the special operator of these facilities, The Spices Group. This relationship has been vital to ensuring that the facility as a whole continues to provide a great customer experience.
You've had a busy decade, what's next for the infrastructure plans?
Wembley is pushing forward with a number of great projects both in infrastructure upgrades and continually evolving and improving our customer experience. In terms of "building stuff", the next project is to plan for the replacement of an ageing golf course depot and staff amenities. We will also focus our attention back on the golf courses by upgrading playing surfaces and other enhancements to the customer experience including strategies to increase engagement and improve service levels.