Wow what a mind blowing 7 days on my recent trip ( Two full days more or less in the air) to Delhi for the 2019 India Golf and Turf Expo. A tick off the ol' bucket list, though a trip is now being discussed to go back with the family and explore deeper into the culture of the Incredible India.
With only one full free day, I opted to take the 3.5h trip out to see Taj Mahal and Agra Fort- a must see for any traveller. We always heard the term growing up that things were compared 'as big as the Taj Mahal', and then there I was seeing, feeling and immersing myself in it. The 42dg dry weather I couldhave done with out though! Seven hours of the 12 hour trip was in a air conditioned car so all good.
Day 2 and 3 – I was able to go visit some local Delhi courses and also play a very challenging DLF Golf Club (Gary Player Design). Karma Lakelands, a 9hole Eco-friendly golf resort designed by Australia's own Pacific Coast Design was a standout for me as it would set a standard that the rest of the world golf facilitates should follow. Villas, golf, excellent food offering with much of the food grown onsite, bee hives, kids playgrounds, etc.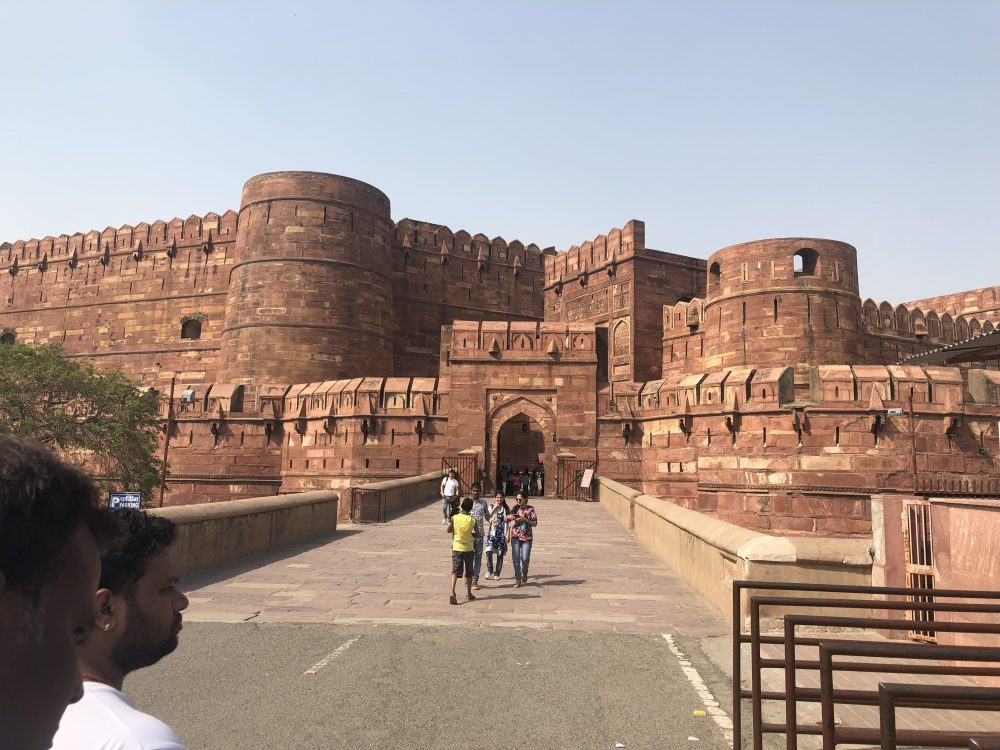 Delhi Golf Club in the heart of Delhi has a reported 30-50 year waiting list to join. The 18hole course currently undertaking greens renovation works by Gary Play Design so was closed for play when I visited. The site has some 300-400year old tombs throughout the course (The India Golf Awards night was held near one) which is an amazing experience in itself. The final course visited was Classic Golf and Country Club which is a 27hole Jack Nicklaus resort layout built same time frame as Lakelands on the Gold Coast (which I managed in 2004-2006). Some similar feeling to some holes, but with a beautiful clubhouse and huge resort hotel next door.
Click here to read Golf Digest India's coverage of IGTE 2019 
Outside of the notorious poor air quality (makes me think of growing up in Los Angeles in the 1980's) and crazy traffic at times, (which both funnily enough added to the experience), the people were so friendly and the food was at a different level. So much fuller flavours than what we get at our local Indian restaurant in Australia or America. Ben Davey Contour Designs, Bruce Macphee from the AGCSA and I ventured into Old Delhi (Thanks guys a memorable night) on my final night and there is where we felt the real India! Crazy traffic, people everywhere and people sleeping everywhere! Some small narrow walkways meandering through the area and to then find a restaurant recommended to us. A 10 course style meal that each was fantastic and more servings if we liked.
The Indian Golf Industry reminds me of what it was like here years ago with the various Representative bodies and government not really working that close together like they need to be to impart real change. Golf is still a niche market for the country but the opportunity to grow for employment and tourist dollar is there for the taking with a little agreement on the way forward.
About the Expo: Day 4-5
The 8th India Golf & Turf Expo – South Asia's largest golf industry trade show emphasised on the importance of generating revenues for the golf industry through tourism. The two-day exhibition for professionals from the golf and turf industry was promoted by the Golf Industry Association (GIA) and supported by Incredible India (Ministry of Tourism, Government of India).
India has over 240 golf courses in the country and about 200,000 individuals play the game across all age groups.
Venkatesan, Deputy DG Ministry of Tourism, GOI, said 'Incredible India' is the most visible brand globally after Malaysia and Singapore, and was confident of golf becoming a key growth engine for tourism in India within the next few years.
The show addressed various facets of golf and how it can contribute to the country's economy – Golf Tourism that is a multi-billion dollar global business; adding value to real estate projects;  high quality lifestyle development to attract international businesses; attracting investments in smart cities; enhancing air quality and environment; replenishing the water table through rain-water harvesting and usage of sewage treated water and of course improvement of health of those who play the game.
One target of the industry is the ambition to achieve a revenue of ₹100 crores (AU$20mil) through Golf tourism in next five years.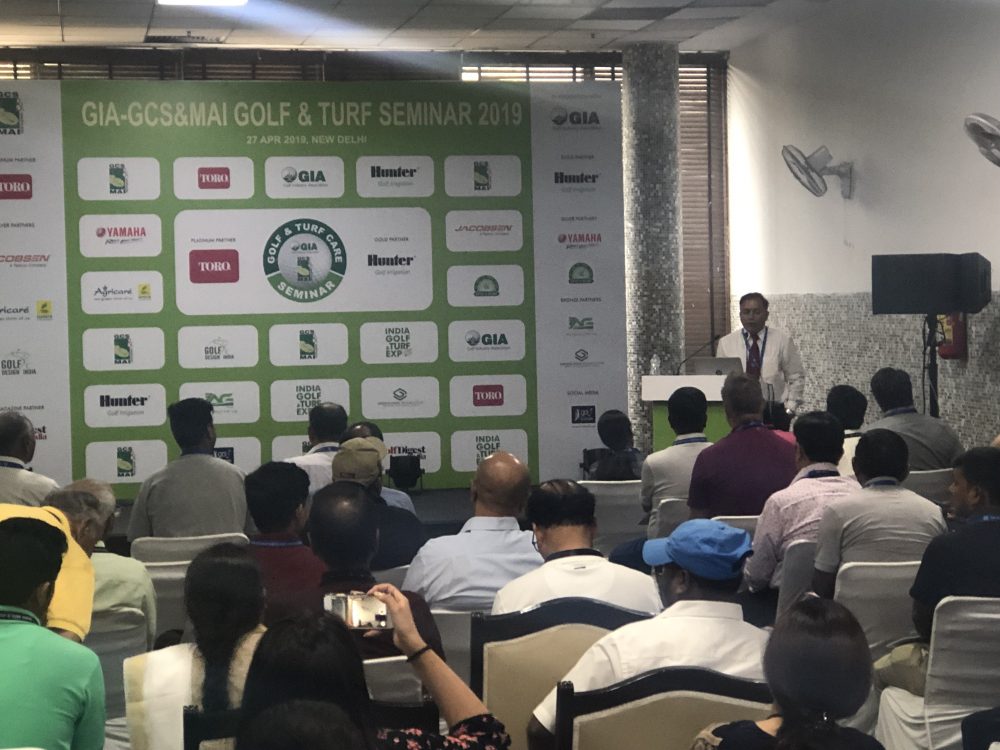 Over 500 delegates representing global golf industry and various brands attended the IGTE 2019. The two-day event featured conferences by international speakers, golf simulators for all visitors and delegates, putting and indoor golf competitions, networking lunches, Industry Awards, gala dinner and over 50 domestic and international exhibitors displaying their products and solutions for golf course and turf maintenance.
Representing the Football industry was Shaji Prabhakaran, President, Delhi Soccer Association and Samir Suhag from the Polo Fraternity of India. Both sports also require high quality turf pitches, and the expertise within the golf industry can serve such requirements.
International speakers included England's Peter Walton, President & Chief Executive, IAGTO – The Global Golf Tourism Organisation – one of the world leaders in developing country strategies for Golf Tourism; Arjun Chowdri, Chief Innovation Officer, PGA of America (which represents 40,000 professionals from the golf industry in USA),  Australian Bruce MacPhee, Senior Consulting Agronomist, and Mike Orloff, Golf Marketing Specialist/Managing Director, Golf Industry Central (Australia).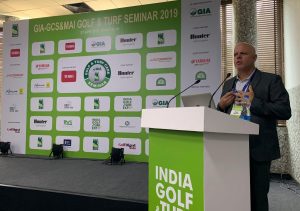 Discussions at the IGTE 2019 would range from issues and aspects relating to the golf industry that include management and topics related real estate.
The IGTE 2019 started its proceedings with a presentation on Golf tourism by representatives of the Ministry of Tourism followed by a discussion on 'Developing an integrated golf tourism strategy for India by Peter Walton.
Post lunch there was a panel discussion on 'New initiatives – 7 success stories' comprising of various eminent personalities from the golf industry.
The second day of the IGTE 2019 featured a discussion on plausible business models for golf related real estate development, which will also see attendance from star Indian golfer Gaganjeet Bhullar.
The IGTE 2019 this season also featured a unique art exhibition by wildlife and nature contemporary artist Gita Bhattacharjee.
Leading global brands like Toro, Rainbird, Club Car and Yamaha Agri exhibited their latest technology and machinery at the show.
Other key golf industry bodies represented at IGTE 2019 including the Indian Golf Union (IGU), Women's Golf Association of India (WGAI) and the Golf Course Superintendents and Managers Association of India (GCSMAI).
The Indian Golf Union and Golf Industry Association expressed their commitment to exploring new horizons for the sport in India.
IGU's honorary treasurer and chairman of technical rules and amateur status committee, Ishwar Achanta stressed on the revival of properties like the Indian Masters and Indian Classic.
In a bid to make golf more accessible to the general public, GIA president Deepali Shah Gandhi seconded the initiatives taken by the IGU.
She said, "The Indian Golf Union is moving on the right path and the combined efforts by GIA and IGU can make the things possible at a much faster rate.
Gandhi also suggested that "the game can be made more feasible if the army golf courses are made accessible to the civilians".
The fourth edition of annual India Golf Industry Association awards honoured top contributors, including Gaganjeet Singh Bhullar, for the growth of the game in India in recent years.
Arjuna Awardee Bhullar won the Outstanding Achievement as a Player award. The Kapurthala-born Gaganjeet won the 2018 Fiji International, a European Tour event, last year and also holds the rare distinction of becoming the youngest golfer on the Asian Tour to achieve nine career victories on tour.