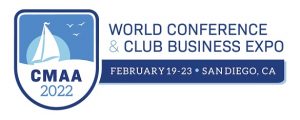 The Club Management Association of America's (CMAA) World Conference and Club Business Expo will return to its in-person format in 2022.
The CMAA said the objectives of the five-day gathering (February 19-23) 'are to maximise networking, present stellar business and industry experts, foster interactive forums for your biggest challenges, and build and further our industry'.
The industry's largest annual gathering provides a multitude of opportunities to chart a new course and forge ahead:
Advance your career and expand your network
Meet your certification goals
Find new talent for your club and mentor future industry leaders
Gain new ideas and insights for your club
Research and secure solutions for your club's challenges
To be staged at the San Diego Convention Centre, featured speakers who have already been confirmed include Jeff Havers, Bill Walton, Nichol Bradford and Dustin Garis.
As well as five General Sessions with featured speakers and pre-conference workshops and experiences, there will be more than 60 education session options across all 11 educational competencies.
Meanwhile, the Club Business Expo is one of the hospitality industry's fastest growing shows.
Registration
The two-day show provides an opportunity to explore products and services offered by more than 270 companies showcasing industry leading trends and innovations.
For further information and registration details, visit www.cmaa.org/conference