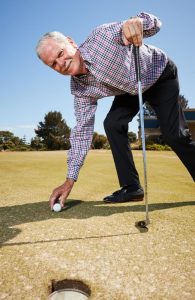 AN emotional Pete Ormsby was honoured for his incredible service to sport at the South Australian Golf Industry Awards dinner on Saturday night.
He was recognised for devoting his career to the development of golf across the state as a player, teacher and contributor.
After beginning as a professional at Riverside (now West Lakes) Golf Club, Ormby proceeded off-course with retail golf outlets in SA, culminating in his renowned superstore.
"There have been many memorable moments along the way since buffing golf clubs late into the night at Riverside," he said.
"The gamble to leave Riverside after opening our second off-course store and driving many hours late at night on dirt roads to be at the next country golf club ready for lessons the following day – it was an adventure,"
"The culmination of building and opening Pete's Golf Superstore was one of our proudest moments."
Now with links to Drummond Golf and The West Beach Golf Park, Ormby will retire in January.
"All I have ever wanted to do is promote the game I love and bring the latest equipment and technology to the golfers of SA,"
"I look forward to walking the Fairway following Wade (his son) on the European Tour, washing golf carts and trimming hedges for (son and Director of Golf Car Solutions) Jordan and working on my frustrating short game."
Source: The Advertiser