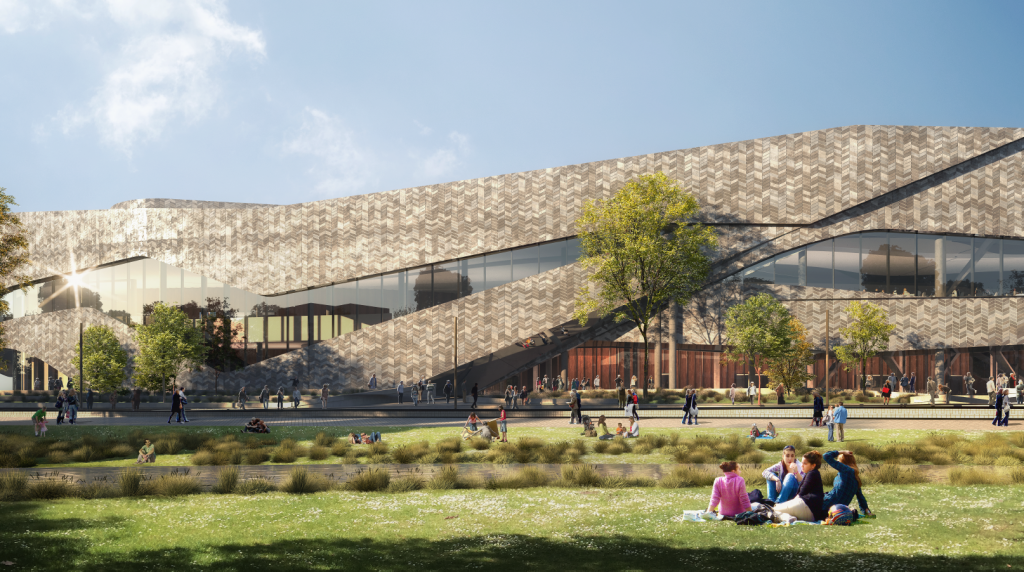 The New Zealand Golf Industry Council (NZGIC) is pleased to announce that an agreement has been reached with ChristchurchNZ and Te Pae to host Golf Matters 2022, New Zealand Golf Conference & Expo.
Christchurch, New Zealand's 'Garden City' is an excellent and exciting destination with the choice of venue supported by the collective arms of ChristchurchNZ and Tourism NZ, who were very proactive in seeking agreement, reached at the end of 2021.
Timing of this agreement coincided with the opening of the $475million new convention centre, Te Pae.  A ceremonial opening was held on 17 December 2021 where dignitaries and media were given 'their first look' at the 1400 seat auditorium, 24 meeting rooms and banquet areas for 1800 in a small but appropriate presentation.
The public opening of Te Pae will take place in February 2022 but the conference organiser for Golf Matters 2022, NZ Golf Conference & Expo, Denise Langdon was also given a preview late last year.
"It is simply stunning," Langdon said.  "We are expecting a large delegation to attend Golf Matters 2022 from around the country, those who have any stake, interest or role in golf in New Zealand will be treated to one of the country's most modern and advanced facilities, it will serve our ambitious conference plans well"
Golf Matters 2022, NZ Golf Conference & Expo is an initiative of the New Zealand Golf Industry Council (NZGIC) whose members include Golf New Zealand, the PGA of New Zealand, Golf Managers Association and the New Zealand Golf Course Superintendents Association.
This is the first conference of its kind in New Zealand – and possibly the world. The initiative will bring together all the sectors of the golf industry so that delegates and attendees will have the opportunity to network amongst both New Zealand and international golfing peers.
Presentations will provide critical insights and lively debates on issues facing the golf industry now and moving into the future.
"Golf in New Zealand has seen a huge boost in the past two years, despite a global pandemic" stated Sam Sullivan, chairman of NZGIC. "While some areas of the industry are still hurting such as travel and tourism, all other sectors are booming – golf equipment, golf course materials, products and machinery to name a few. And of course, we are seeing the associated benefits that come with new players taking up or returning to golf, rounds are up – as are memberships. As an industry we have an opportunity to capitalise on this growth moving forward into 2023 and beyond"
The dates are set for the 8-10 August 2022 with a programme that is being developed with thought-provoking presentations and forums with golf leaders and innovators worldwide.
"While we have hopes for many internationals to attend," Sullivan said, "we are mindful of the on-going challenges of border openings and the travel restrictions that Covid has had and continues to impose.  We are working with our key presenters for on-line presentations and "Zui's", streaming in from around the world".
Presenters and the programme lineup will be released in February with delegation registrations open at that time.  NZGIC is currently confirming presentations and support from golf experts from the Club Management Association of America (CMMA), the European Tour, WPGA Tour of Australasia, International Association of Golf Tour Operators (IAGTO) and the R&A along with media, Olympic representatives and engaging men and women from the golf professional ranks.
"We are also looking to involve other keynotes speakers from associated industries such as travel, tourism, finance and other high-profile sports, said Sullivan.  "It is an exciting lineup, which along with our forum and Expo plans will be a golf industry event that no-one involved in our sport, in New Zealand, in any sector or level, should miss"
Megan Crum, head of business events for ChristchurchNZ, called the Te Pae opening "a momentous shift in our city's capability to host business events".  ChristchurchNZ has calculated those attendees at business events spend an average of $375 per day, compared with $232 for international visitors and $155 for domestic travellers.